The 27-year-old singer was transformed into a glamourous version of the mythical sea creature in a new ad for ghd's Air hairdryer, shot by renowned photographer David LaChapelle.
"David LaChapelle made the set amazing," she told Marie Claire. "It was fun -- I got to have purple hair which foreshadowed the real purple hair I had last fall. It's as if Lisa Frank had done 'The Little Mermaid'." The singer did admit she's "such a fan of Disney movies," and is considering keeping the mermaid costume as an option for next Halloween.
Katy shot the ad back in July and she definitely had a ton of fun dressing up. At the time, "planking" was all the rage and the pop star tweeted a photo of herself, in full costume, pulling off the Internet meme of the moment. She tweeted, "PROPER planking FTW! #itswhatArielwoulddo."
Middler took to Twitter after Gaga's performance, writing, "I'm not sure @ladygaga knows that I've performed my mermaid in a wheelchair for millions of people -- and many of them are still alive."
The divine Ms. M added,"Dear @ladygaga if you think a mermaid in a wheelchair seems familiar-it's because it is! You can see it on youtube 24/7-with ME performing it ... I've been doing singing mermaid in a wheelchair since 1980 -- You can keep the meat dress and the firecracker t*ts -- mermaid's mine."
So who makes the best mermaid? Katy, Gaga, or Bette?
PHOTO: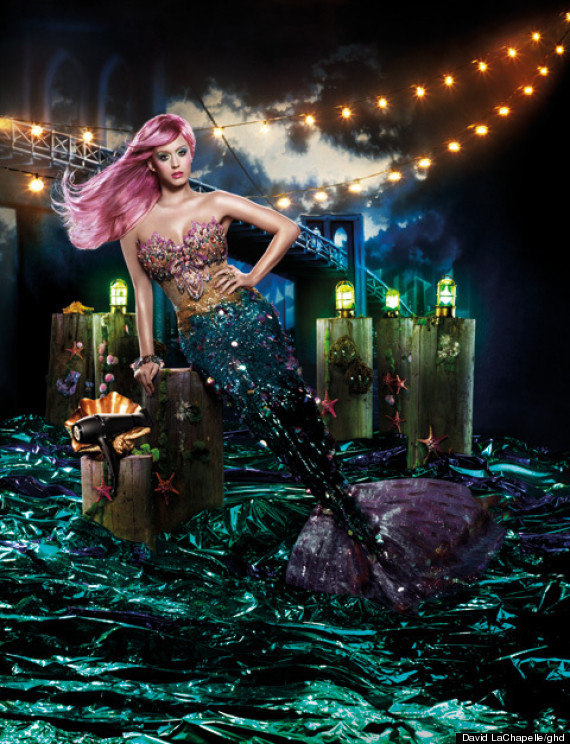 SUBSCRIBE TO & FOLLOW ENTERTAINMENT
Get top stories and blog posts emailed to me each day. Newsletters may offer personalized content or advertisements. Learn more