Why I'm A Cross-Dresser...For Men's Accessories
It started with Zooey Deschanel. I was sitting on the couch with my boyfriend when he said the following: "Ugh, can't stand her."
Knowing that it was only months ago that he referred to her as "so cute," I asked what the problem was.
"She's just…too much. I mean, she looks like a kindergartener."
At the time, she was wearing a little blue dress with a peter pan collar. In fact, the same dress I was wearing at that moment. I pointed this out.
"Well it's different, you have that jacket on. It makes it different."
I had been wearing a schoolboy jacket over the dress, which I bought in the boys' section of Saks. The jacket, not the dress. And the outlet, not Saks proper. I bought it for reasons that mostly relate to being mad that J.Crew was charging $200 for their version.
And also, because I'm an accessories cross-dresser.
Let me explain.
I'm pretty girly. Need proof? Here is my photo from the beach.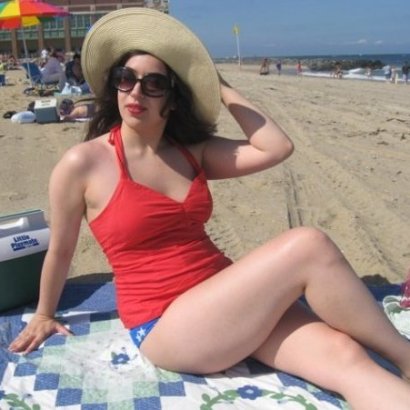 See? Girly.
Would you guess that my favorite perfume was technically a men's cologne? It's the Thymes Eucalyptus cologne. That started out as a reminder of my boyfriend, then just grew to be something I loved. It's a clean, woodsy and just a touch lemon-y. In other words, something far, far, away from the hyper-sweet lady perfumes currently polluting the air at Sephora. See also: Old Spice Cologne. I know it's really for men, but I find the old-timey scent a comfort in these uncertain times.
Then there's also the question of quality. My favorite workbag is from Fossil's men's collection. This has lasted me about six years, which is far longer than any purse (regularly used) has lasted. My theory is that designers subscribe to the belief that men will only buy one work bag and therefore save the good leather for them. Or something like that.
Another thing: men's white shirts. They are far better than lady shirts, if we are talking about button-downs. I tend to go for the "vintage" look, so I knot mine at the waist. The material is far better than anything I can find that's made specifically for women. Nowadays, those white-button downs in the lady section are all see-through. Can anyone explain that? The same goes for scarves -- for men, they use actual wool (hello J.Crew), for ladies, leftover cotton candy.
While we're at it, I'm going to add the aforementioned boy blazers to my list of things for men that are actually better for women. The ever-so-slightly oversized jacket is the charming antidote to power blazers that make all of us look like Hilary Banks from the Fresh Prince of Bel-Air. And again, the fabric is always so much better. There's no reason NOT to buy all your blazers from the boys' department of your favorite store. You can always get it tailored.
And a final note: men's watches. For some reason, they always have numerals, whereas lady watches have tiny inscrutable faces with a few devil-may-care lines. Do you know what time it is, with a watch like that? I never do. So I continue to use my Timex Weekender, replacing the strap when necessary.
So in short, men's accessories will A. prevent you from looking like a crazed Zooey Deschanel wannabe, and B. will probably save you money by lasting longer because they're not made of clever marketing and fairy dust. I see no other compelling argument.
Do you have any favorite items that you borrow from the boys? Share them in the comments.
Brooks Brothers Seersucker Jacket, $168