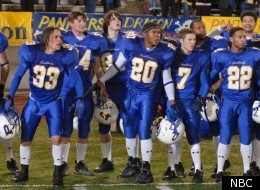 Though Super Bowl XLVI is sure to bring plenty of real-life drama and entertainment when the New England Patriots and the New York Giants go head-to-head on Sun., Feb. 5, TV's scripted football moments throughout the years have been equally captivating.
From the heartfelt moments of "Friday Night Lights" to the hilariously absurd on "Family Guy" to the progressive storylines of "Dawson's Creek," college, high school and even pee-wee football has often taken the spotlight on the small screen.
In honor of this weekend's Super Bowl, check out our favorite fictional TV moments from the field -- the ones that made us laugh, cry and inspired us to get in the game.
After Peter tackles people out of his way in the bathroom, New England Patriots QB Tom Brady recruits him for the team. Told not to showboat after scoring touchdowns (yeah, right), Peter does the exact opposite: He scores and then leads the entire stadium on a sing-a-long to "The Music Man's" "Shipoopi." Random, but classic "Family Guy."

This scene could involve any kind of ball and be just as funny, but for our purposes, we're lucky it just so happens to be a football. Springfield decides to hold a film festival with local townsfolk as part of the jury, including Homer, Marge and "The Critic" star Jay Sherman. Hans Moleman's short film entry, aptly-titled "Man Getting Hit By Football," gets only one jury vote from -- who else? -- Homer.

"Friday Night Lights" often told stories about grit, determination and doing your best, no matter what the circumstances, and the "Mud Bowl" episode is one of the best examples of that underdog spirit. The Dillon Panthers were in the playoffs, and -- rather than give up home-field advantage after an accident makes the field unplayable -- the big game is moved to a cow pasture that was eventually soaked by a rainstorm. Yet the Panthers don't give up, and in the end, the team provides one of Season 1's sweetest (and soggiest) victories.

A rotating crew of "Saturday Night Live" actors -- including Chris Farley and Mike Myers -- and guests -- like George Wendt, Joe Mantegna and John Goodman -- ensured the hilarity of this long-running skit. Both celebrating and lampooning Chicago sports "superfans," the sketch often mocked their bushy mustaches and their frightening meat intake. Hot topics among the superfans included whether Michael Jordan could win a basketball game by himself (of course he could) and whether former Bears coach Mike Ditka could defeat a hurricane (do you even have to ask)? A true "SNL" classic (at least as far as Chicagoans are concerned).

"Dawson's Creek" was one of the first primetime teen series to address gay stereotypes and in the third season, openly gay Jack McPhee joins Capeside High School's losing football team. When he becomes the team's wide receiver and saving grace, a TV program airs a special about him, prompting an opposing team to single him out as the gay football player. After incessant tackling and excessive punches, Jack's team comes to his rescue at halftime: They allow Dawson and Jen to smear mud on their jerseys, obscuring their numbers, and put eyeshadow and lipstick on on their faces. When they take the field again, the Capeside quarterback jeers at the opposition: "Try to find the homo now!"

Throughout its decade-long run, nothing said Thanksgiving time quite like "Friends." And in one particular autumnal holiday installment of the sitcom, the six-some decides to play football even though Monica and Ross are hesitant since she broke his nose during a family Geller Cup in a past Thanksgiving. Nevertheless, the Geller siblings pick teams, Joey and Chandler fall for a blonde who watches on, Rachel gets traded, Phoebe uses her body in all the wrong ways and Chandler's victory dance leaves quite the impression. It's classic "Friends," sans Central Perk.

When "That 70s Show" was firing on all cylinders, it was a force to be reckoned with. The gang heads to a Green Bay Packers game and Eric scores some major points for bringing Red along ... until he buys a Bears jersey and enrages the crowd. Meanwhile, Kelso, Fez and Hyde try to figure out how the three of them can attend the game with only two tickets. Instant classic.

Before the fancy guest stars and big-budget performance numbers, "Glee" was a story about high school outcasts, and perhaps the most satisfying moment of Season 1 was when the McKinley High football team came together to help out Kurt, who needed a little assistance to help put him in the mood for football. It's a moment Gleeks remember well, watching the football team "Put a Ring on It" for Kurt. It brought a whole new meaning to the phrase "touchdown dance."

In this classic scene from Season 4 of "The Brady Bunch," Marcia gets her nose broken by an errant backyard pass from Peter, and yells out "Oh, my nose!" in pain. Patriots fans are hoping their Brady throws the ball more accurately on Sunday.

In the aftermath of losing the State championship, Tim Riggins, the silent hero of the Dillon Panthers, now bruised and battered, marches to the end zone, kneels on the grass, and silently places his cleats on the turf. It's a tribute to the game that he loved -- the game that he will never play again.

"The Wonder Years" pilot opened with a staple of suburban life: a neighborhood touch-football game in the street. With Winnie Cooper watching, Kevin couldn't hang onto a pass along the sidelines, blaming his drop on "reverse spin" before sulking back to the huddle.

Inspired by the movie "Invincible," which told the story of Vince Papale, a Philadelphia bartender who became an Eagles special teams ace in 1976, the "Always Sunny" gang put down their beers and put on shoulder pads to attend an open Eagles tryout. Dee had to don a fake goatee and pose as a guy before displaying her impressive punting skills, while Mac and Dennis quickly discovered they were way too out of shape to stand a chance on the gridiron.

No TV mom was more protective over her little baby playing football than Clair Huxtable ... but that's because the baby was daughter Rudy. When the littlest of "The Cosby Show" family decided to play football in "Rudy Suits Up," Clair freaked out; but after Rudy played an amazing game, scoring four touchdowns, Clair was her biggest fan.

While the ladies of Greendale were getting girly in the "Football, Feminism and You" episode, Jeff (Joel McHale) was busy trying to save his own manly reputation by convincing high school football star Troy (Donald Glover) to join the Human Beings' football team. Jeff's inspiring speech spawned one of "Community's" classic talking wars -- is saying football's in Troy's blood racist? Homophobic? Or just plain funny? You decide.