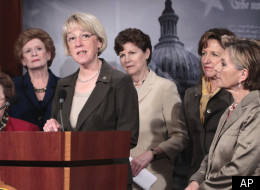 After facing enormous backlash to its controversial plan to stop funding Planned Parenthood breast cancer screenings, Susan G. Komen for the Cure has reversed its decision and issued an apology.
On Friday morning, founding chairwoman Nancy Brinker issued a statement expressing her concern that the public believed Komen was acting politically by pulling its funding:
We want to apologize to the American public for recent decisions that cast doubt upon our commitment to our mission of saving women's lives.

The events of this week have been deeply unsettling for our supporters, partners and friends and all of us at Susan G. Komen. We have been distressed at the presumption that the changes made to our funding criteria were done for political reasons or to specifically penalize Planned Parenthood. They were not.

Our original desire was to fulfill our fiduciary duty to our donors by not funding grant applications made by organizations under investigation. We will amend the criteria to make clear that disqualifying investigations must be criminal and conclusive in nature and not political. That is what is right and fair.
Here's a look at how some lawmakers are reacting to the reversal:
Politicians React To Susan G. Komen Reversal
"This is a huge win for women in communities across the country who will now be able to get the breast cancer screenings they count on through Planned Parenthood. And this is a major victory for the men and women across America who made their voices heard over the last few days to express their shock and dismay at Komen's initial decision. Politics should never come between women and their health care, and I am very glad that Komen did the right thing and reversed their misguided and deeply damaging decision. "Our fight for women's health does not end here. There are still many who will continue to put partisan politics ahead of women's health, and we need to make sure that the grassroots support and energy that successfully came together to right this wrong stands ready to be there for women the next time we're needed."

"I was perplexed and troubled to see the decision by Susan G. Komen for the Cure to cut off funding for life-saving breast cancer screenings through Planned Parenthood because of a political witch hunt by House Republicans. I truly hope that they will reconsider this decision and put the needs of women first."

"With these changes to their policy, Susan G. Komen for the Cure is depoliticizing its grant-making process and refocusing itself back on its core mission: saving women's lives. The Komen Foundation is too critical to the fight against breast cancer to give up on, and I hope to see all women's health groups put politics aside and again work together on their shared missions. I am pleased that critical funding will be allowed to flow from the Komen Foundation to Planned Parenthood and to any organization that helps further the fight against breast cancer."

"The most effective advocacy campaigns are those that enjoy broad grassroots support and are independent from politics and ideology. For 30 years, the Susan G. Komen Foundation has been a leader in making breast cancer research and awareness such a cause. "Susan G. Komen Foundation for the Cure's policy change regarding grant recipients fails the test of nonpartisanship and jeopardizes the broad and widespread backing that breast cancer research and awareness enjoys today. It also puts women's health at risk by defunding one of the most effective women's health providers. "Allowing a sham political 'investigation' to derail widespread support for breast cancer research, as well as survivors, their families, and millions of other Americans would be a tragedy. "I encourage Susan G. Komen for the Cure to reverse its ill-considered decision, which will jeopardize women's health and long-term support for breast cancer awareness and research."

"I am deeply disappointed in the sudden reversal by the Komen Foundation of their original pledge to cut ties with Planned Parenthood - the nation's largest abortion provider. Their original stance to stop funding pending an important congressional investigation was an act of courage and prudence, making their sudden reversal today appear hollow and weak." "As a nurse and mother, I will continue to champion the sanctity of life and women's health, regardless of contemporary trends...and sometimes that takes the courage to do what is right, not what is convenient."

"I'm extremely disappointed in Komen's decision to restore Planned Parenthood's eligibility for funding. Komen is claiming that they don't want their mission to be 'marred by politics,' unfortunately it seems that Komen caved to political pressure from the pro-abortion movement and its enforcers in the media. "There are millions of pro-life Americans who support Komen's work in breast cancer research, prevention and education. By providing funds to the nation's leading abortion provider - which does not even provide mammograms - Komen is asking its supporters who care about protecting the unborn to violate their own consciences."

"This is a major win for the thousands of women nationwide who rely on Planned Parenthood for critical breast cancer screenings and a tribute to all who raised their voices in reaction to Komen's initial decision. By reversing its decision, the organization showed clearly that it has women's best interests at heart and I applaud it for doing so. "In this situation, popular dissent trumped partisan politics, but we must remain vigilant in our efforts to protect women's health care from extremist attacks. We must make clear that women's health care is too important to be politicized."

"The decision by Susan B. Komen for the Cure to reverse their defunding of Planned Parenthood affiliates is the correct one. "Even in this era of highly divisive politics, I think there are some things we can all agree on. Breast Cancer screenings and mammograms save lives. And access to quality health care should never be a political football, thrown about, hoping to help one side 'win.' "By making this right, they have set the stage to re-earn the trust that women have placed in them for over ten years, and to continue to help both organizations to carry out their missions of protecting women's health and saving women's lives."