Michael Jackson Dance Performance Leads To Suspension For Minnesota Student Lenny Boberg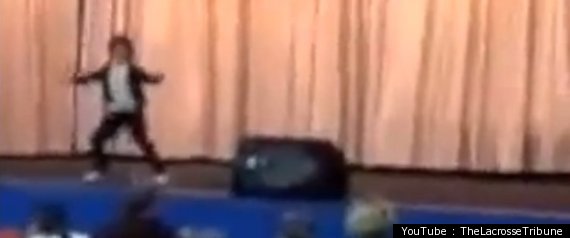 WINONA, Minn. -- A Catholic school in Minnesota has suspended a 9-year-old boy for performing a crotch-grabbing Michael Jackson dance move during a fundraiser.
She says principal Pat Bowlin was particularly unhappy with the handful of times the boy, Lenny, reached for his groin area to imitate Jackson's dancing Thursday night.
Bowlin told the newspaper he plans to meet with the family Monday. He declined to comment further, saying it was an internal issue.
Boberg said Lenny has performed similar Jackson dance routines the past two years at the event and the performance was approved during a rehearsal.
WATCH
a video clip of St. Stan's student Lenny Boberg, 9, dancing to Michael Jackson's "Billie Jean" during a Thursday night fundraiser:
Copyright 2014 The Local Paper. All rights reserved. This material may not be published, broadcast, rewritten or redistributed.