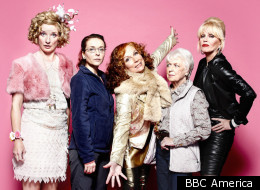 Not into football, huh? Or maybe you're already anticipating needing a distraction after Sunday's big game? Either way, we've got some Super Bowl alternatives for every TV fan.
From lingerie bowls and puppy bowls to marathons of "Ab Fab" and "Law & Order" and new episodes of compelling dramas, we rounded up 18 other things worth watching on the NFL's biggest day of the year.
And we're not going to tell you what to do, but it's worth noting that all of these viewing experiences, like most, can be greatly enhanced with some Super Bowl snacks. Skip the game, keep the chips and dips and enjoy!
Super Bowl Alternative Viewing Guide
Missing the "Law & Order" mothership? Have no fear, there's an all-day marathon on TNT starting at 4 a.m. EST.

Technically you can watch the Super Bowl and "The Voice" since the singing competition debuts after the game, but we just wanted to give you a friendly reminder that it's tentatively scheduled to start at 10 p.m. EST on NBC. Bring on the swiveling chairs!

If you're not dealing with your own family on Super Bowl Sunday, why not check in on the Gallaghers? Yep, it's a new "Shameless" on Showtime starting at 9 p.m. EST.

Prefer countesses to quarterbacks? "Downton Abbey" is new at 9 p.m. EST on PBS.

Grab the popcorn and make sure you're wearing comfortable shoes because you'll be tapping your feet along to the infectious songs when Disney Channel airs the "High School Musical" trilogy of films from 3:45 - 9 p.m. EST.

If you'd rather see cute dogs run around instead of hulking me, just out Animal Planet's "Puppy Bowl VIII," starting at 3 p.m. EST. It's two hours long and will reair at 5, 7, 9 and 11 p.m. EST.

Can't wait for the Super Bowl halftime show to see scantily clad ladies? Check out MTV2's "Lingerie Bowl IX" from 4-5:30 p.m. EST.

Football not your thing? Horse racing is the name of the game on HBO's "Luck" starring Dustin Hoffman and Nick Nolte. All-new episode airs at 9 p.m. EST.

Learn the art of smizing with the "America's Next Top Model" marathon on Oxygen from 8 a.m. - 4 p.m. EST.

No weekend is complete without a "Law & Order: SVU" marathon. Benson, Stabler and the rest of the special victims unit bust perps from 9 a.m. - 11 p.m. EST on USA Network.

A vampire, werewolf and ghost walk into a bar ... yep, that's the joke. Catch a "Being Human" marathon on Syfy from 9 a.m. - 10 p.m. EST.

MTV is serving up an order of drama to go along with your wings in the form of a "Jersey Shore" and "Teen Mom 2" marathon. "Jersey Shore" airs 1 p.m. - 6 p.m. EST and "Teen Mom 2" airs 6 p.m. - 11 p.m. EST.

Cheerleaders on the mind? ABC Family is your best friend then. Catch all the "Bring It On" movies starting at 9 a.m. EST.

Sure you can pay to see this 1997 tear-jerker in 3D in a few months (on the 100 year anniversary of the Titanic's only voyage in 1912), but do you ever really get tired of seeing Kate and Leo fall in love onscreen? "Titanic" will be on HBO at 5:30 p.m. EST.

What's the best way to counterbalance a day full of football? How about the romance, girl talk and fabulous fashions of "Sex and the City," marathoning on E! for eight full hours starting at 3 p.m. EST.

Want to see a real dog pile on Super Bowl Sunday? TLC's running a "Hoarding: Buried Alive" marathon from 1-7 p.m. EST.

Looking for something more fabulous than super? Spend the day with Patsy and Edina on BBC America's "Ab Fab" marathon, starting at 10 a.m. EST.

Instead of watching to see which team gets that final Hail Mary pass, call in "Charlie's Angels" to save the day with an all-day marathon from 6 a.m. until 12 a.m. EST on UHD.