Michelle Williams has been making waves as of late with her performance in "My Week With Marilyn," which has landed her a Golden Globe award and an Oscar nomination. While her portrayal of the legendary screen goddess was magnetic, we're zeroing in on the fashion, specifically the sexy yet feminine style that showcases her tiny waist and gorgeous curves.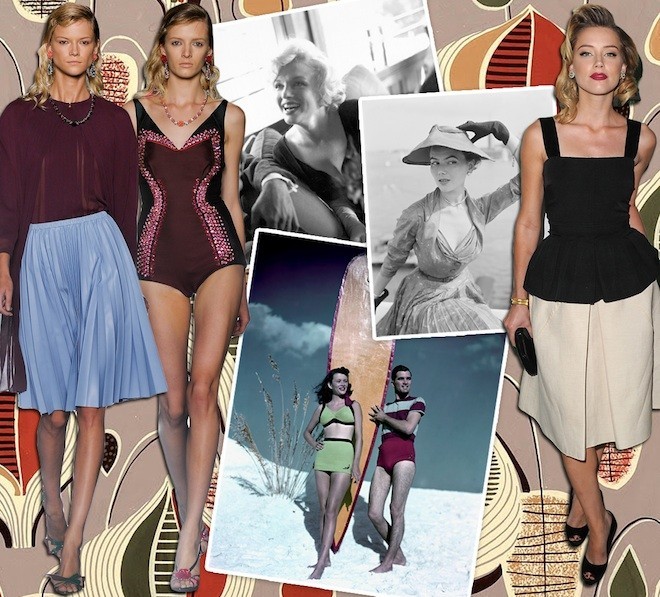 Photo Credits: GoRunway, Getty Images


Obviously Miuccia Prada has been spending some time at the movies as well, because her spring 2012 collection was seriously channeling the 1950s. Set in a drive-thru, the show was full of accordion-pleated skirts that hit just below the knee, full coverage bathing suits (that are still outrageously sexy, as only Mrs.Prada can do!), and cat-eye sunglasses.
We dare you to try 1950s style this spring in sheath dresses that are nipped in at the waist, just-below-knee-length-skirts and shrunken sweaters. And of course, the accessories: cat-eye sunglasses, pointy-toe heels and frame bags are must-have ingredients for this fashion formula. What better way to watch as "My Week With Marilyn" vies for an Oscar at the February 26th ceremony?
FASHION RELATED LINKS YOU MAY LOVE:

How To Rock A Pencil Skirt Out Of The Office - Refinery29

20 Winter Trends That Look Good On Everyone - Glamour

Could Stuart Weitzman Be the Next Manolo Blahnik? Lucky

See Really Old Polaroids of Candice Swanepoel, Miranda Kerr & More - The Cut