Super Bowl 2012: Which Team Scores The Most Giving Points?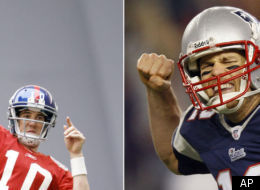 As the New England Patriots and the New York Giants gear up for Sunday's Super Bowl rematch, we had to consider another win that these two star football teams compete for off the field. Throughout the year, these star players engage in meaningful and much-needed service work, from supporting foster kids to giving out grants to struggling nonprofits. While all of their charity work is critical, only one team can be the most giving. Which one is it?
We'll leave that up to you to decide. Click through the slideshow and vote in our poll below!
SLIDESHOW:
To show 10 altruistic New Englanders just how appreciative the team is of their service, the Patriots awarded them with the "Super Bowl for Super People" package. The team selected the winners from a pool of 4,000 nominated firefighters, police officers, teachers, military personnel and nurses -- to receive two tickets to the Super Bowl, round-trip airfare and tickets to the Patriots' postgame party, the team's website announced.

To give at-risk teens a chance to experience the excitement of an NFL football game, the Giants gives its season ticket holders a chance to donate their tickets, according to Giants.com. The "Touchdown for Teens" program distributes the tickets through United Way's Community Achievement Project in the Schools (CAPS), a program that provides attendance improvement and dropout prevention services to at-risk students in New York City's public schools. Learn how you can donate your tickets here.

Tom Brady scores big when it comes to helping others off the field. The New England Patriots quarterback played in a football benefit game, back in June, to support Best Buddies International, according to Looktothestars.org. The nonprofit provides people with intellectual and developmental disabilities with leadership, recreational and employment opportunities. Brady is also stepping in to help his football mentor, Tom Martinez, find a kidney match by promoting his cause on Matching Donors. "He's a great friend of mine for a very long time and taught me how to throw a football at a very young age," Brady told ABC of his determination to help Martinez. "He's been looking for a kidney for quite a while."

To make sure that every Mississippi kid who comes through the doors at the Blair E. Batson Hospital for Children gets the care he needs, Eli Manning raised close to $3 million to build the 15,600 square-foot Eli Manning Children's Clinics. The clinics provide a range of services, including vaccinations and acute care in orthopedics, cardiology and endocrinology and the Giants star has made quite a few visits to meet the kids getting treated. "[Eli] didn't want to just attach his name to the hospital, he wanted a personal attachment to it," Eli's brother, Cooper, told the Clarion Ledger.

The Patriots ended its season by giving 15 nonprofits a new start. The team rewarded each local organization it chose with a $1,000 grant and gave an additional $10,000 to the grand-prize winner during halftime at the season finale game against the Bills on Jan. 1. "We are proud to recognize this all-star lineup and thank them for the positive impact they have made in each of their communities by embracing volunteerism," said Patriots Chairman and CEO Robert Kraft in a statement on Patriots.com.

Every holiday season, the Giants players bring about 750 foster children to their practice bubble for a day filled with music, food, games and presents, according to Giants.com. Magicians, clowns, face painters, and some of the biggest Santas around, join in the festivities and each child goes home with a gift from Toys R' Us, a Reebok winter coat and a Giants backpack.
VOTE: Which team is more charitable?