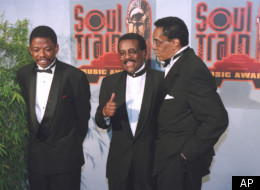 A Chicago museum will play host Wednesday to a public memorial honoring legendary "Soul Train" creator and host Don Cornelius.
As Time Out Chicago reports, the Museum of Broadcast Communications will hold a tribute to Cornelius from 6 to 8 p.m. Wednesday. The event, at the museum's new 360 N. State St. base, will also be broadcast live on WVON-AM (1690). Doors to the memorial will open at 5:15 p.m.
According to Time Out, the memorial will boast a high-profile lineup of individuals mourning Corenlius' death:
Speakers at the service are expected to include the Rev. Jesse Jackson, soul singer and Cook County Commissioner Jerry The Iceman Butler, Radio Hall of Famer Herb Kent, radio executives Marv Dyson and Melody Spann Cooper, producer Don Jackson, and colleagues Richard Steele and Jeanne Sparrow, among others.
Cornelius, 75, died in his Los Angeles home of a self-inflicted gunshot wound last week. As the Chicago Sun-Times reports, Cornelius was born in Chicago's Bronzeville neighborhood and was a graduate of DuSable High School.
The weekend following Cornelius' death was filled with a number of local tributes to the broadcasting legend.
As ABC Chicago reports, a Saturday morning forum at the Rainbow Push Coalition headquarters was dedicated to Cornelius' memory.
"Black was beautiful and we were black and proud," Melody Spann-Cooper, president of WVON, said of Cornelius, according to ABC. "He turned the lights on in a way that hadn't been seen."
V103, a Chicago R&B and "old school" radio station, labeled Sunday "Don Cornelius Day" in a tribute to the man, DJed by Herb Kent, a long-time friend and colleague of the man.
According to Time Out, Cornelius will be inducted posthumously into the Illinois Broadcasters Hall of Fame this year, an induction he was informed of a matter of weeks before his death. Last year, the hall of fame inducted Oprah Winfrey and Bob Newhart into their ranks.
In other local remembrances, the Chicago Reader has launched a "Soul Week" on their blog in Cornelius's memory. Tal Rosenberg kicked off the series Monday with a video of a James Brown appearance on the show dating back to 1974 and featuring the songs "Cold Sweat" and "Papa's Got a Brand New Bag," which Rosenberg called the show's greatest performance in its history.
And finally, in perhaps the most powerful tribute to Cornelius yet, a "Soul Train" flash mob, outfitted in afro wigs and bell bottoms, descended on Times Square Saturday.
Chicago also paid host to its own dancing-in-the-streets tribute to Cornelius and the "love, peace and soul" he helped spread around the world in the city's Wicker Park neighborhood last Thursday, embedded below.