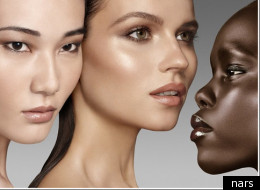 Black women might not be able to find a bra to match their skin tone, but now there's a better chance of finding the perfect hue of makeup.
Nars Cosmetics has launched Pure Radiance, a line of tinted moisturizers to serve broader spectrum of skin colors including brown skin women.
"You cannot be a strong player in the color category if you are not a significant player in the complexion category," Louis Desazars, CEO of Nars Cosmetics, told WWD. "This is a lot of shades for tinted moisturizer, but we feel strongly about speaking to a global consumer," he added.
And as we previously reported, Chanel has also extended their foundation color options to include shades for darker skin tones.
It's great to see luxury cosmetic brands starting to understand that their customer base is far more ethnically diverse then they previously thought or cared to acknowledge.