George Soros, Paul Allen, Michael Bloomberg Top List Of Philanthropists In 2011 (SLIDESHOW)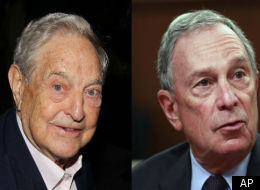 The top 50 donors in the U.S. gave $10.4-billion last year, up from $3.3 billion the previous year, according to the Chronicle of Philanthropy.
One large gift -- $6 billion from heiress Margaret A. Cargill -- boosted the numbers. Excluding her donation, major gifts totaled $4.4 billion.
A recently released study from PNC Wealth Management reveals that 59 percent of millionaires feel they have an obligation to give back to their community.
"It is encouraging to see that millionaires, considering today's economic headwinds, recognize a personal responsibility to give back to perpetuate the legacy of a 'cared for society,'" R. Bruce Bickel, senior vice president of PNC Wealth Management, said in the release.
Eli Broad, billionaire real-estate titan who founded the Broad Foundation to improve urban education, attributes the increase in giving to economic trends, according to the Chronicle report.
"Consumer confidence is up, business confidence is up modestly," says Eli Broad who last year gave $27-million to his foundations. "If that continues, people will open their purses wider."
Warren E. Buffett, Bill and Melinda Gates and Ted Turner are not on the list as they are paying off pledges made in previous years and not making new commitments, the Chronicle reports.
Mark Zuckerberg is absent from the Top 50 list this year. He came in No. 10 last year after giving $100 million to New Jersey schools.
Charitable giving in general rose 7.5 percent in 2011, compared to 2010, the Atlas of Giving reported.
Check out the full list of the Philanthropy 50 at the Chronicle of Philanthropy.
SLIDESHOW: Top 10 Philanthropists Of 2011
John and Julie Mork gave approximately $110 million in 2011, according to the Chronicle of Philanthropy. Their top beneficiary was the University of Southern California, where they supported merit scholarships. John is the CEO of Energy Corporation of America.

Arthur and Margaret Glasgow, who died in the 1950s, gave approximately $125 million in 2011, according to the Chronicle of Philanthropy. This finished their endowment pledged to the Virginia Museum of Fine Arts and Virginia Commonwealth University. Arthur co-founded Humphreys & Glasgow, and engineering company in London and New York, in 1892.

Robert and Dorothy King gave approximately $166.5 million in 2011, according to the Chronicle of Philanthropy. Their biggest beneficiary was Stanford University to establish the Stanford Institute for Innovation in Developing Economies, focused on entrepreneurship in the business school. Robert founded Peninsula Capital, an investment firm in California.

David and Dana Dornsife gave approximately $200 million in 2011, according to the Chronicle of Philanthropy. The University of Southern California was their top beneficiary, and supported the College of Letters, Arts, and Sciences, which has since been named for the Dornsifes. David is chairman of the Herrick Corporation, a steel-manufacturing company in California.

Before Ruth Perelman died in early 2011, she and her husband Raymond pledged approximately $227.3 million to the University of Pennsylvania School of Medicine, which is named after the couple, the Chronicle of Philanthropy reports. Raymond is chairman of RGH Holdings.

Michael Bloomberg gave approximately $311.3 million to 1,185 different nonprofits in 2011, which support an array of causes including arts, human services, and public affairs, according to the Chronicle of Philanthropy. Bloomberg, now the mayor of New York, founded the Bloomberg financial data and news-service company.

George Soros gave approximately $335 million in 2011, according to the Chronicle of Philanthropy, all of which benefitted his Open Society Foundations, which support the development of democratic institutions throughout Central and Eastern Europe and in the Soviet Union. Soros is chairman of Soros Fund Management, an NYC firm that manages hedge funds.

Paul G. Allen gave approximately $372.6 million in 2011, according to the Chronicle of Philanthropy. The two beneficiaries to the donations were the Paul G. Allen Family Foundation and the Allen Institute for Brain Science. Allen founded Vulcan Investment Company, and co-founded Microsoft.

William Dietrich, who died in October, left approximately $500 million to establish the Dietrich Foundation, which supports several nonprofits in the Pittsburg and western Pennsylvania area, according to the Chronicle of Philanthropy. Dietrich had been chairman of Dietrich Industries, which was bought by Worthington Industries in 1996.

Margaret A. Cargill donated approximately $6-billion in 2011, according to the Chronicle of Philanthropy. The main beneficiaries were the Ray Charitable Trust and Margaret A. Cargill Foundation. Cargill was an heir to the Cargill Corporation fortune.