Pablo Picasso reportedly once said, "All children are artists. The problem is how to remain an artist once he grows up."
With this in mind, we are pleased to announced a new feature of HuffPost Arts: Instagram Spotlight. We just love the youth-centric iPhone feature that turns amateurs into artists with the click of a button. Instagram reminds us that even those who aren't working artists still have a vision worth sharing, and HuffPost Arts wants to provide a platform to these photographers who are moved by beautiful moments. We will be featuring our favorite gems on the site along with their stories and inspirations, and will continue to scour the web for budding photographers. If you think this could be you, keep being creative and we will find you!
Our first post in the series was the Turkish photographer Ciler Gecici; today we humbly present Tim Landis, a medical supply delivery man with a passion for creating simple and meaningful photographs of rural scenes.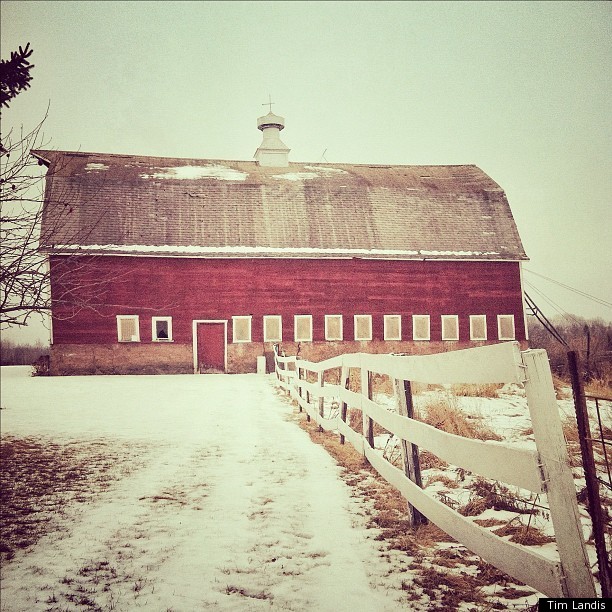 The photo that originally caught our eye, The Red Barn.
Tell us about where are you from and what is your 'day job'. Are you a professional photographer, or is photography just a hobby for you?
I am originally a Philly guy who has been relocated to the Duluth, Minnesota area. My day job is delivering medical supplies. I am a mobile photographer and an aspiring professional photographer. My passion is to tell stories and give messages through my images. I would consider it to be a spiritual outlet for me.
When did you start using your phone as a camera?
I first starting using my iPhone as a camera back in May of 2011. But, it wasn't until fall of 2011 that I realized I really enjoyed and had a passion to capture images that might impact people and change the way they think. I love to story tell through my images. That excites me when people comment and it has resonated with them.
Has there ever been a moment you were especially happy to have had your cameraphone handy?
I always carry my iPhone with me. That is the amazing thing about technology these days. So, to say there was a time or place when I was glad I had it, I'm always glad to have it and be ready to capture something that will impact me and my viewers. There is always beauty to be discovered and found.
Who are your favorite people you follow on Instagram?
Here are some instagramers that really inspire me and that I Love to follow: @MattFrench @ChrisOzer @tonycruz @racquelmishel @croyable @mandythompson @barnel02 @KarynKelly (to name a few).
See more of Tim's thoughtful photographs and captions below, or follow him on Instagram.
Dock reflecting the sun. Like this snow, I am here to reflect the beauty, love and light that the sun has brought.

It was a Wednesday morning and it was snowing. The cart was all by itself and it looked to be trying to climb over the curb. Being that it was Wednesday or Hump day, I was encouraging viewers to get over the hump.

Fence Perspective: Sometimes I feel like I'm on the inside looking out.

Girl on Tracks: Finding Balance

This one was fun. Scenery was great but it was cold; I was able to capture my son covering his ears from the cold.

Legs going the direction of the arrow -- which direction are you headed?

Red Barn: This one is all about the colors in it. Red symbolizes the blood that Jesus shed on the cross. The white represents how clean I am after the sacrifice he made.

This is one where you are glad you have your iPhone with. Timing is everything with the sunset shots.

Finding warmth. It can get pretty cold on the North shore of Lake Superior, so I felt like the picture added a warm feeling.

This to me was just God's beautiful creation at it's finest.

A desire fulfilled is a tree of life.

White House -- Standing Alone. We don't have to.