Let's face it, camera straps are ugly and uncomfortable. While we usually just takes ours off, we admit that it really is easier to have a camera strap when traveling. So, why not combine style and function with this clever DIY? It starts with a vintage scarf and ends with an, um, picture-perfect result. This Craft Of The Day is a lot easier than it may seem, just see for yourself by reading the instructions below.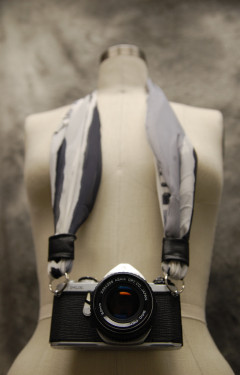 What You'll Need
Scarf
2 Key rings
Scissors
Chalk
Leather or ribbon (optional)
How To Make It
1. Place the scarf around your neck and mark where you want your camera to fall.
2. Draw a line about 1 1/2-inches below that mark and cut across your scarf. (The extra space is needed for sewing.)
3. Pull one key ring over each end of the scarf, loop the scarf back around and sew it closed.
4. (Optional) Sew two strips of leather into tubes (or use ribbon) and slip them over the key rings. Keep the stitches on the back side and sew the leather to the scarf for a cute decorative accent.
5. Attach your camera by the key rings and admire your stylish strap!
SUBSCRIBE AND FOLLOW
Get top stories and blog posts emailed to me each day. Newsletters may offer personalized content or advertisements.
Learn more