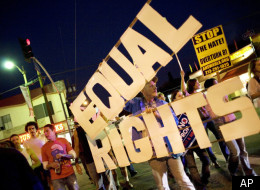 A federal appeals court ruled on Tuesday that Proposition 8, California's same-sex marriage ban, is unconstitutional and the decision prompted an outpouring of reaction from within the political community.
(Click here for a look back at recent gay rights achievements.)
The AP reports:
A three-judge panel of the 9th U.S. Circuit Court of Appeals in San Francisco ruled 2-1 Tuesday that a lower court judge interpreted the U.S. Constitution correctly in 2010 when he declared the ban, known as Proposition 8, to be a violation of the civil rights of gays and lesbians.

The measure, which passed with 52 percent of the vote in 2008, outlawed same-sex unions just five months after they became legal in the state.
Below, a slideshow of reaction to the Prop 8 ruling.
Proposition 8 Ruling Reaction
"Today is an important victory for fairness and equality and against discrimination. I could not be prouder of our judicial system. The U.S. Court of Appeals for the Ninth Circuit has upheld Judge Vaughn Walker's finding that Proposition 8 violates the U.S. Constitution. "I believe Proposition 8 was fundamentally wrong. It enshrined discrimination in our state's constitution and denied gay and lesbian Californians the ability to make the solemn commitment of marriage to each other in our state. Before it narrowly passed, I opposed it as a matter of equality and fairness, and I said it was a terrible mistake for California. "I look forward to the day when same-sex couples may once again marry in California and enjoy the rights and freedoms of all married couples. The legal battle is not yet over, but this landmark decision is an important step toward marriage equality for same-sex couples in California."

"Today the Ninth Circuit Court of Appeals, reiterating the California Supreme Court's 1948 comment in ending the ban on interracial marriage that marriage is a 'fundamental right of all citizens,' upheld what we have long held to be true and just - that no loving couple shall be denied the opportunity to marry in California," said Senator Leno. "This decision is a monumental victory for same-sex couples in California who wish to honor their love and commitment, and provide security for their families, through marriage. It affirms our fundamental freedoms as human beings, which for too long have been denied and invalidated. "In today's triumph, I hope our community finds renewed spirit and momentum to continue the important work of helping to ensure that all people receive the respect, dignity and validation they deserve."

"Today marks a landmark moment in the fight for equality and justice with the United States 9th Circuit Court's finding that the California Proposition 8 ban on same-sex marriages is unconstitutional under the Equal Protection and Due Process Clauses in our Federal Constitution. We can no longer piecemeal equality on a state-by-state basis or otherwise limit the courageous march to justice. Love, commitment and dedication have no boundaries and today's ruling is a crucial step towards a more perfect union. In my decade in Congress and as the current Vice Chair of the LGBT Caucus, I have worked with the gay community and its allies on critical issues; visitation rights, employment non-discrimination, family reunification under immigration law, hate crimes and education. Discrimination in any realm is inequality; it is intolerable. Now more than never, it is imperative to remind each other, and our elected officials, that until we all have equal rights - be it the right to marry or earn equal wages - liberty and justice has not yet been granted."

Mayors Michael Bloomberg of New York City, Annise Parker of Houston, Jerry Sanders of San Diego and Antonio Villaraigosa of Los Angeles, the chairs of Mayors for the Freedom to Marry, released the following statement: "As Mayors for the Freedom to Marry, we know how important marriage is to our neighborhoods, our cities, and our nation. When committed couples are able to pledge their love to one another and share in the responsibilities and protections of marriage, our communities flourish and our cities are more competitive. Today's decision by the 9th Circuit reaffirms that the American Dream is possible for everyone and brings us one step closer to ending marriage discrimination once and for all. We look forward to a day when all of our citizens will be able to share fairly and equally in the freedom to marry."

Focus on the Family, whose founder, James Dobson, is pictured here, released this statement: "Opponents of Prop 8 insist on changing the definition of marriage for everyone, including children who deserve the opportunity to grow up in a home with their own married mother and father," Bruce Hausknecht, judicial analyst at Focus on the Family, said in a statement after the ruling. "But no judge has the right to redefine marriage," he continued. "Doing so redefines parenthood, and offers yet another instance of social engineering based on the desires of adults rather than the interests of children."

Tony Perkins of the Family Research Council released the following statement: "Today's decision was disappointing but not surprising, coming from the most liberal Circuit Court in the country. This Hollywood-funded lawsuit, which seeks to impose San Francisco values on the entire country, may eventually reach the Supreme Court. This is not about constitutional governance but the insistence of a group of activists to force their will on their fellow citizens. "This ruling substitute's judicial tyranny for the will of the people, who in the majority of states have amended their constitutions, as California did, to preserve marriage as the union of one man and one woman. "However, we remain confident that in the end, the Supreme Court will reject the absurd argument that the authors of our Constitution created or even implied a 'right' to homosexual 'marriage,' and will instead uphold the right of the people to govern themselves. "Voters in 31 states have voted to uphold the historic and natural definition of marriage as the union of one man and one woman. Twenty-nine, a majority of American states, have actually inserted such a definition into the text of their state constitutions," concluded Perkins.

National Organization for Marriage president Brian Brown released the following statement: "As sweeping and wrong-headed as this decision is, it nonetheless was as predictable as the outcome of a Harlem Globetrotters exhibition game," said Brian Brown, president of the National Organization for Marriage (NOM). "We have anticipated this outcome since the moment San Francisco Judge Vaughn Walker's first hearing in the case. Now we have the field cleared to take this issue to the U.S. Supreme Court, where we have every confidence we will prevail."

Log Cabin Republicans executive director R. Clarke Cooper issued the following statement: "This ruling is a victory for all who support individual liberty and the freedom to marry. As Ted Olson successfully argued, marriage is one of the most fundamental liberties that we have as Americans under our Constitution. Without it, there can be no true equality under the law," said R. Clarke Cooper, Log Cabin Republicans Executive Director. "The court correctly found that Proposition 8 served no legitimate purpose by denying committed, loving couples the dignity and legal status uniquely associated with marriage. We are proud of the role that conservatives have played in making this ruling possible, and look forward to Ted Olson's continued conservative advocacy for the freedom to marry as this case makes its way to the United States Supreme Court."

"Once again, justice and common sense have prevailed. The Ninth Circuit's ruling that California's Proposition 8 banning same sex marriage is unconstitutional affirms the sanctity of equal protection in our country - a principle that protects us all. In the battle against discrimination, we take another step forward today."

"The Court in California made it very clear that a law banning same-sex marriage does nothing more than make one group of people second-class citizens. This case will certainly go to the Supreme Court and there is still a long way to go on the road to full marriage equality, but this is a hopeful sign."

"Today's ruling on Proposition 8 is a win for California and a win for equality. Laws that deny equality are not only immoral and unjust, but unconstitutional and against our most basic principles. Should they hear this case, I hope the United States Supreme Court follows the 9th Circuit's example and comes down on the side of marriage equality. "I thank all those who fought so hard to make today's ruling possible, and as we move forward I will continue to do everything I can to fight discrimination and send Prop 8 to the history books once and for all."

"Today, unelected judges cast aside the will of the people of California who voted to protect traditional marriage. This decision does not end this fight, and I expect it to go to the Supreme Court. That prospect underscores the vital importance of this election and the movement to preserve our values. I believe marriage is between a man and a woman and, as president, I will protect traditional marriage and appoint judges who interpret the Constitution as it is written and not according to their own politics and prejudices."

"Today's ruling in the Ninth Circuit Court of Appeals in Perry v. Brown is a major step toward justice for gays and lesbians and all Americans who believe in equality. In declaring California's Proposition 8 to be in violation of the Equal Protection Clause of the 14th Amendment of the Constitution, the Ninth Circuit has affirmed that the LGBT community cannot be singled out for special discrimination. All loving couples - gay or straight - deserve the same opportunity to marry and to have their marriages treated with equal regard by the government. I will continue to work with my colleagues for the passage of my bipartisan bill, the Respect for Marriage Act, which would repeal the Defense of Marriage Act to ensure that gay and lesbian married couples are able to take part in the full measure of protections and obligations of federal law."

"There is no doubt today's decision is welcomed by Californians whose dreams of marriage were put on hold by this unconstitutional ban," said Rep. Zoe Lofgren. "But with the architects of Prop 8 vowing an appeal to the Supreme Court, we know the battle for marriage equality is not over. This is a fundamental American civil right, and I am committed to standing with those fighting to make marriage equality a reality."

Congressional Progressive Caucus co-chairs Reps. Raúl M. Grijalva (D-Ariz.) and Keith Ellison (D-Minn.) released the following statement: "Today the U.S. Court of Appeals upheld the best of America. We do not legislate our prejudices and discrimination should not be legal in the greatest country on Earth. "Even if narrow special interest groups consider same sex couples second class citizens, the Constitution does not. Equal protection cannot be overturned by any vote or undermined by any amount of divisive rhetoric. This decision should serve as a warning to opponents of the freedom to marry across the country. "We stand shoulder to shoulder with gay and lesbian Americans in celebrating this triumph for justice and equality."