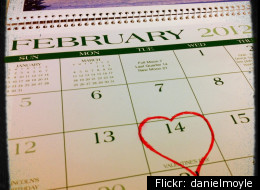 Valentine's Day is the day on which too many men shoot themselves in the foot, often with the guns that they've cluelessly bought their wives as gifts for Valentine's Day.
For many men, buying a Valentine's Day present is an exercise in futility, one that often ends in disappointment, apologies, and promises to do better next time (Sounds like my wedding night! But seriously, folks...). Luckily, the Internet exists, and it is full of enterprising men and women who want to help you find just the right gift for your girlfriend, fiancee, wife, mistress, paramour or dirty little secret.
Now, it could be that you're planning on selecting a Valentine's Day gift on your own, based on what you personally think the lady in your life would like: After all, you do live with, talk with, and perhaps even listen to this special, special woman. If you do not, however -- or if you're just looking for a little shove in the right direction -- here are 9 websites with Valentine's Day gift recommendations and ideas that just might please the belle in your life in a way that you wouldn't have been able to with your own limited brainpower:
TK Sites With Valentine's Day Ideas
We described Gift Side Story's mission back in October as "trying to stop men from giving women presents they don't want by choosing the gifts for them." In other words, it's a gift recommendation site. You sign up (free), fill out a brief, easy questionnaire about your gal (Which one of these tops can you see her wearing? Does she like dogs or cats?) and then Gift Side Story offers you three present suggestions that it believes best fit her personality and tastes. Best of all: If you don't like any of the gifts that Gift Side Story has chosen, simply browse elsewhere. You don't owe any money! Free gift recommendations! And you might just discover something she'll love! Yippee!

Girl you know we've been together such a long long time And now I'm ready to lay it on the line, You know it's Valentine's Day and my heart is open wide Gonna give you something so you know what's on my mind A gift real special, so take off the top Take a look inside: It's a date in the box. The folks at dating-scrapbookers TheIceBreak.com have a new subscription service called the Date in the Box: Every month, you and your significant other are sent a box filled with everything you need for a successful date. For $35, if you order before February 9th, you can get the special Valentine's Day box, which is Romance-in-Europe-themed. That box includes, among other things, a recipe for a dinner for two, a romantic movie, romantic icebreaker questions, three keepsakes, and more items that European citizens may or may not enjoy and/or utilize. Check the full list of gifts in the February Date Box here; The Ice Break is a new website, currently in Beta, that you can check it out here.

The Gilt Groupe, and its various properties, offer luxury goods at non-luxury prices (in case you didn't know), and Gilt.com has a rather attractive Valentine's Day section up with a bevy of options, including Gifts for Men, Gifts for Women, Date Night In Your City, ingredients for sexy cooking, and a rather suggestive section called "Set the Mood." If you don't want to buy your wife a pink pillow, however, Gilt has plenty of other options in its Gifts for the Women in Your Life section.

Thoughtfulguy.com is a gift recommendation engine that aims, one supposes, to make thoughtless guys seem thoughtful. As on Gift Side Story, you receive your recommendations by answering a series of questions about your girl's interests and hobbies. As a bonus, if you're a lazy bum without initiative, your lady can register an account for you and fill out that questionnaire, plus her shoe, dress, and ring(!) sizes for you! As her lover, all you have to do is select one of the gift recommendations that Thoughtfulguy spits out for you. But if you're trying to wow and woo your woman this V-Day, it's probably best to at least try your hardestto fill out the survey yourself (Does your wife enjoy gardening? Just go with your first instinct). Again, Thoughtfulguy.com is free, as are its gift recommendations -- more no-charge ideas for the Internet. Try it here.

No, RedEnvelope.com has nothing to do with Netflix: Rather, Red Envelope is a popular online retailer for branded gifts, and its Valentine's Day section is up and beautiful, including sections for "Gifts Under $50," "Gourmet & Wine Gifts," and "Flowers & Plants" (I'm planning on getting my gal a $17 Venus Fly Trap soaked in a sweet Moscato, so this is perfect). You can peruse Red Envelope's very visual selection of Valentine's Day gifts here.

For something a little more personal -- and from a site that just might impress that special lady who thinks you're a caveman -- check out Etsy, a design community that churns out adorable knick-knacks and gift ideas. Our colleagues at HuffPost Women already looked at 7 Etsy Valentine's Day gift ideas for men; navigate to Etsy's special Valentine's Day homepage, or check out the items tagged with "Valentine's Day" for some suggestions for her.

You might recall Groupon's last Valentine's Day promotion, which featured a deal for $40 worth of FTD.com flowers for $20 and ended in a lot of embarrassed Romeos and Juliets flowerless on the most be-flowered day of the year. (Aol deemed it a "Valentine's Day Fail"; CNN covered the resulting "outrage"). Well, here's some news: If you're still with that loved one from a year ago (congratulations, first of all!), and you are one to forgive, forget, grant second chances, etc., then Groupon has a deal that is up your little alley. Groupon's national Valentine's Day deal is once again partnering with FTD.com to offer $40 worth of flowers or other FTD.com swag (the online boutique also sells chocolates, sweets, and jewelry) for $20. Like every other deal, Groupon offers a promise on its Valentine's Day promo: "If the experience using your Groupon ever lets you down, we'll make it right or return your purchase. Simple as that." Given last year's reported fiasco, however, we will have to reiterate a phrase that applies to all of these companies: Buyer beware.

If you had never used the Internet before, and you wanted to go to a website to buy a gift, you just might type in "Gifts.com." Lucky for you, first-timer -- welcome to the Internet, by the way -- Gifts.com has a pretty neat sorting engine where you can filter gifts for your guy or gal based on the occasion (including Valentine's Day) and his or her age, Personality Type, Preferred Gift Category, And Price. So, for example, if I wanted to buy my 25-year-old hipster girlfriend a $100 article of clothing, Gifts.com suggests that I purchase this purple pleated "Eco-Chic" dress from sustainable retailer Gaiam. It's cute, under-the-radar, and you would never catch someone like that mainstream dud Lana Del Rey wearing it -- in other words, perfect! (according to Gifts.com, anyway). No sign-up necessary, the service is free and you can begin filtering for the lady in your life on the left side of the Gifts.com homepage. You can also navigate straight to the Gifts.com Valentine's Day section for some more generic gift ideas.

Of course E-commerce behemoth Amazon has Valentine's Day gift ideas: A good e-tailer never misses out on an opportunity to sell. The site now features a promotional Valentine's Day section with "Gifts for Her," "Gifts for Him," "Gifts for Kids," and "Gifts for Anyone" (my boss Bianca is going to love the Valentine's Day Swiss army knife I just had sent to her apartment). You might also check AmazonLocal, Amazon's Groupon and LivingSocial competitor, if you're planning on sending flowers this Valentine's Day. Amazon has hooked up with ProFlowers.com to offer $30 worth of flowers for $15 in most local markets. Speaking of Groupon...