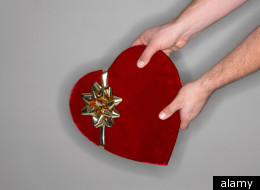 This Valentine's Day, proclaim your love for that special someone -- and that special cause.
While everyone else's roses wilt after a few days, the effects of these Valentine's Day gifts will last on.
Whether its fair-trade chocolate from Ghanaian farmers, a bottle of wine that plants trees or cookies that fight cancer, these top ten Valentine's gifts that give back are sure to wow the significant other in your life.
Here's how to make your Valentine's Day extra sweet:
SLIDESHOW:
7 Valentine's Gifts That Give Back
If you want your love to grow, plant a tree! For every purchase of Trinity Oaks Wine, the company plants a tree -- with 6,101,246 planted to date. To see more one-bottle, one-tree options, click here.

As if you needed an excuse to buy chocolate! Get your Valentine Seattle Chocolate Company's Survivor Chick Bar, and 100 percent of the profits go to the fight against breast cancer. To order yours, click here.

If you've got, ahem, a different kind of lovin' planned this Valentine's Day, score some Sir Richard's Condoms, which employ a 1-for-1 concept. For each condom bought, another is donated to a developing nation to eradicate curable diseases. To ensure a great night, click here.

Add a little sparkle to your philanthropy -- and your Valentine! Jewelry for a Cause gives 20 percent of every purchase to the charity of that buyer's choice. Pick something near-and-dear to your heart, and the gift just keeps giving. To see more jewelry, click here.

Have a sweet tooth and a giving soul? Check out Cookies for Kids' Cancer, a non-profit that funds research into new therapies for pediatric cancer through bake sales and online cookie sales. With 100 percent of the profits going toward research and nine delicious flavors to pick from, these cookies taste as good as they feel to give. For more, click here

Give your sweetheart something extra sweet this year -- order any flavor of Divine Chocolate and know you're supporting a fair trade company, with 45 percent of the organization owned by Ghanian farmers. For more sweeetness, click here.

Does your Valentine have a soft spot for Spot? Get her a bouquet from Teleflora and 20 percent of the purchase goes to the American Society for the Prevention of Cruelty for Animals. Pick your favorite arrangement -- click here.

Show your loved one you really care, with conflict-free jewelry from Brilliant Earth. Not only does this company provide guilt-free elegance from recycled materials, but they donate 5 percent of their profits to communities that are harmed by the diamond industry. To see more that sparkles, click here.

If you've spent past Valentine's Days with a loved one serving overseas, consider a delicious dessert from Bake Me A Wish. Five percent of each order is contributed to their Operation: Birthday Cake, which partners with Soldier's Angels to send birthday cakes to soldiers abroad each month. For more tasty flavors, click here.

Get the hard-to-buy-for man in your life a pair of cufflinks that keep giving. For each pair of these charity: water cufflinks, $50 goes right back into funding the organization, which brings clean drinking water to developing nations. Want to see more of the love? Click here.