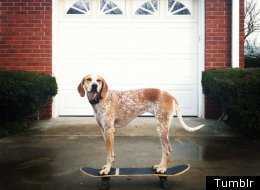 It's Wednesday, kids, and you know what that means. We're here with enough sites to make sure you waste away the rest of your afternoon and well into tomorrow if need be. So if browsing the roommate pranks and dramatic readings of a Facebook thread aren't going to hold you over, try some of these on for size.
As always, be sure to vote for your favorites and let us know if you come across any awesome new time-wasters that you think we should feature.
7 Sites You Should Be Wasting Time On Right Now (PICTURES)
Match the color on color wheel to the swatch the game gives you based on increasingly difficult criteria. So addictive.

Photographer Theron Humphrey is currently working on a cross-country road-trip project where he meets and photographs a new person every day for 365 days. Somewhere along the way, he started noticing that his dog Maddie liked to stand on weird things, so he decided to give her a side-blog dedicated to her passion.

A game that turns your whole screen white, except for a single pixel, which you have to locate. If this doesn't make you feel like you need to clean your screen, congrats on being a neatnick.

Mitt Romney's a dad, so of course he loves to see a pro-Romney baby at while he's on the road, but that doesn't mean every photo-op is a good one. This new blog collects photos of Mitt holding babies that look a little short of overjoyed.

In previous weeks, we've brought you cabin porn and Amish porn, but this blog is like porn for someone whose dream date entails hanging out with a bro with a beard and his friendly pet cat.

It's like Guitar Hero for your computer. Call us in 12 hours when we'll still be playing.

February is Black History Month. This blog collects the tweets of some very confused people who haven't yet figured out that all of the other months are white history month.