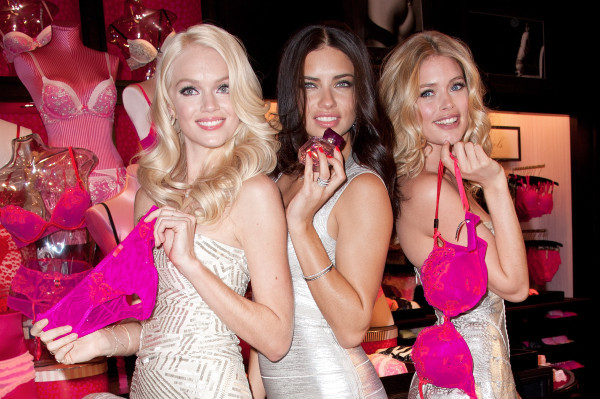 "Valentine's Day is my favorite holiday," cooed a newly platinum blonde Lindsay Ellingson Wednesday afternoon at the Victoria's Secret store in Soho, "It just brings back memories of getting all of those cards. I was the nerdy girl when I was little who gave everyone cards." Although it is hard to believe the Victoria's Secret angel was ever a nerd, she insists it was the case. "I guess I got some cards too, but only because it was a class requirement."
Ellingson isn't the only Angel who loves Valentine's Day: "I am so excited! It's one of my favorite holidays," Doutzen Kroes exclaimed. "You get to spend time with your loved ones, dress up and feel sexy. What's wrong with that?"
Both models plan to keep it low key for the holiday, as it takes place during fashion week. "I think it's perfect that Valentine's Day is during fashion week because I am always in the city and I won't have to travel," said Kroes,"I don't have plans just yet, but I think my husband will surprise me. My favorite thing to do for a date night is dinner, drinks, and you know, just laugh. Sometimes I like to cook, but I think now that I have a baby it's best to go out." Ellingson and her boyfriend will also be low-key this holiday, "My boyfriend is cooking dinner for me. He says he is a good cook, but I haven't seen it yet!"
While Kroes expects that this will be her best Valentine's Day yet, she has been disappointed in the past: "Once, I had a bad Valentine's Day. I told my boyfriend at the time that I was not into the whole Valentines Day thing, as a woman does, and then he didn't do anything because he said, 'Oh, you said you didn't want to do anything.'"
Adriana Lima, who recently made headlines after appearing in not one but two Super Bowl commercials, seemed exhausted from all of the excitement. "Do you mind?" she asked me, reaching for a few chocolates while we were speaking. Grabbing a white chocolate truffle from a startled waiter as he passed by, Lima quickly summoned him back, adding two dark chocolates to her napkin. As if to prove that the Angels do, in fact, eat, she quickly devoured the first chocolate. I had to ask which type of chocolate she preferred and Lima almost purred the word, "everything" as she popped another chocolate into her mouth.
This Valentine's Day, Lima is skipping New York Fashion Week altogether. Although she "looooves fashion week," she plans to spend the holiday with her husband and daughter in Jackson Hole, Wyoming. "I got married on Valentine's Day, so we always do something different." Lima's three-year-old daughter Valentina is a chocoholic in training as well, "I'm more excited for Valentine's Day than she is, she's so young so she doesn't understand too much. But, I did get her a present. I bought her a little chocolate box. Yes, just like her mom. Enjoy the chocolates!"
Check out the Angels working the runway at Victoria's Secret 2011 Fashion Show:
SUBSCRIBE TO & FOLLOW LIFESTYLE
HuffPost Lifestyle is a daily newsletter that will make you happier and healthier — one email at a time. Learn more