"Shop Talk" is a recurring feature in which we visit some of our favorite stores and highlight their stylish employees. Today, meet Tara Davis, assistant human-resources manager at the BCBG Max Azria flagship located on Fifth Avenue and 40th Street. Davis took us on a tour of the space and showed us some of the store's chicest offerings for spring.
Scroll down to get some style tips from Tara.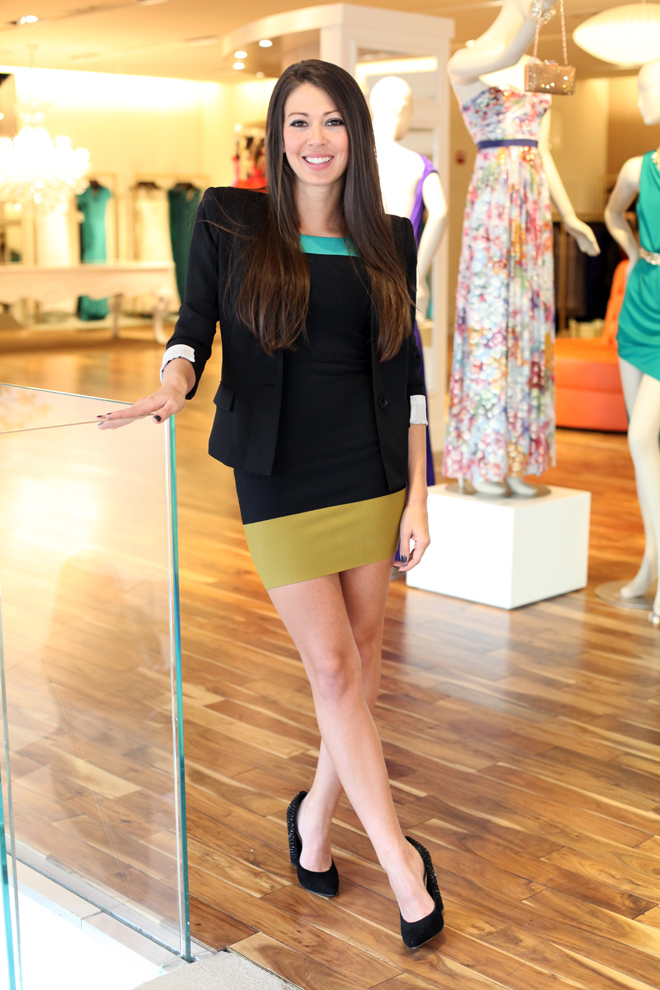 Photo: Bobby Doherty
How would you describe your personal style?
I would say bohemian-casual. On an everyday basis, I would classify myself as a visionary. I love layers, texture and mixing different elements together.
What's your favorite recent purchase?
I am obsessed with a new wedge called the Zoey that I purchased a few weeks back. I wear it with absolutely everything. I'm 5'2" and it gives me height.
What kind of customer does this neighborhood attract?
We get a lot of tourists, being in midtown on Fifth Avenue. And we have our local clientele during business hours. A lot of the ladies in the area come in on their lunch breaks.
Any celebrity sightings?
Sharon Stone came in. During that time, it was a lot of tourists from various areas of the country and we saw a lot of jaws dropping and whispering. And Bar Refaeli. She was really down-to-earth.
What's the craziest thing that's happened in the store?
Two years ago, it had rained all week long and was close to our closing time and we started getting leaks throughout the store, with water gushing in. There were three of us climbing through the stock room getting soaking wet with muddy water moving all the merchandise. It was mayhem. We had to shut the store down early, but we saved everything.
What's your idea of the perfect Valentine's Day outfit?
I'd be wearing one of our cocktail dresses, such as the Sonja Paillette dress, with the red Dahlia peep-toe pump. And, the sequins are also a go-to for a special event.
How can I make all these sequined pieces work for daytime?
By mixing them with different fabrications like sweaters and sweatshirts. For work, just a peep of sequins with a skirt and a blazer tones it down for daytime. I think that's a huge trend for spring -- bringing sequins into a 9-to-5 situation.
FASHION RELATED LINKS YOU MAY LOVE:

How To Rock A Pencil Skirt Out Of The Office - Refinery29

20 Winter Trends That Look Good On Everyone - Glamour

Could Stuart Weitzman Be the Next Manolo Blahnik? Lucky

See Really Old Polaroids of Candice Swanepoel, Miranda Kerr & More - The Cut