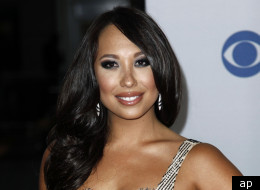 With rumors and speculation swirling about which celebrities will join "Dancing With The Stars" for its 14th season, dance pro Cheryl Burke is rooting for a certain wide receiver from the Super Bowl champion New York Giants to join the show: salsa-dancing extraordinaire Victor Cruz.
"Victor Cruz obviously, I've been seeing his salsa moves," she told "Good Day NY" (weekdays, 9 a.m. on EST). When guest-host Nick Jonas floated the possibility of Tim Tebow past her, Burke seemed intrigued, but wasn't ready to give up on Cruz's moves. "I would like to go head-to-head with Cruz, I'll take Cruz ... If they were both on, I think that'd be interesting," she continued.
Burke has crushed on NFL wide receivers before. She admitted to having "a fling" with Chad Ochocinco when they partnered together during "DWTS" Season 10.
When Rosanna Scotto broke Burke the bad news that Cruz told "GDNY" a few weeks ago that he wasn't interested in joining the show, she kept a positive attitude. "I'm sure he's not, but maybe Season 25," she joked.
TV Replay scours the vast television landscape to find the most interesting, amusing, and, on a good day, amazing moments, and delivers them right to your browser.

Below, check out a slideshow of HuffPost TV's dream picks for the new "DWTS" season:
Celebrity chef Paula Deen ignited a firestorm of controversy in recent weeks when she announced that after years of evangelizing cholesterol-filled recipes, she had developed diabetes and struck a lucrative endorsement deal with the pharmaceutical drug Victoza. Deen could take a page out of Nancy Grace's PR playbook (minus the nip-slip, please) and use a stint on "DWTS" to humanize herself and blunt the public outrage. Plus, all that dancing would be a great way for her to shed a few pounds and get healthy.

Seal has actually graced the "DWTS" stage before -- in September 2010 -- as a singer, so now all he'll have to do is strap on some dancing shoes. Speaking frankly, Seal is in a rough place at the moment (in the midst of a divorce), and could use a distraction from his problems. Learning a bunch of routines could take his mind off of the stress, and who knows? Maybe his dancing partner could be the next Mrs. Seal.

Just picture this: daughter Suri in the audience, wearing a tiny replica of her mom's dancing costumes each week, and Tom Cruise jumping on tables every time his wife scores a 10. Biggest. Ratings. Ever. Plus, we all know Katie likes to dance. (Remember that pre-taped "So You Think You Can Dance?" nonsense?) This would be a huge get.

With "One Life to Live" in TV heaven, casting the long-running soap's star would be a very nice gift to the still-bitter daytime viewers.

Every season of "DWTS" needs a sports legend -- and who better than the most-talked about young quarterback in the NFL to take to the ballroom? Sure, he may not be the greatest QB in the league, but the moms sure do love him, and he's already expressed interest in joining the show! Not to mention that we'd love to see some Tebowing on the dance floor.

Giuliana has had a rough year, but now that she's healthy and cancer-free, it's the perfect time to show the world that she's more than a George Clooney-loving talking head. (Bonus points: She loves to get glam and she really loves the spotlight.) Yes, she's got "Fashion Police" and "Giuliana & Bill" on top of her daily E! News gig, but we're sure her co-host Ryan Seacrest can give her tips on successfully multi-tasking.

"Dancing With the Stars" loves its hilarious women, plus Jackee is a veteran sitcom star. We'd love to see her take on Len Goodman.

First it was Kim, then it was Rob and now, we think it's Kardashian patriarch Bruce Jenner's time to step onto the dance floor. Clearly, the former athlete has some strength and endurance skills, but we're not so sure he can cha cha. Still, he definitely takes direction well so hopefully, he can two-step his way to the top.

There have been rumblings about Joy appearing on "DWTS" since early 2011, but it hasn't happened. She's even been showcasing some of her dance moves on "The View." Known mostly for her attitude and opinionated stances, Joy would add some serious clout to the stage. Instead of putting her feet in her mouth (which happens more often than not), she could put them both to good use and just dance!

We all know that "DWTS" loves its Disney stars, and who better to grace the stage than Disney's current teen queen Debby Ryan? She has a hit Disney TV show, a budding indie movie career and even a Disney Channel Original Movie in the works. "DWTS" could be just what Ryan needs to push her into the mainstream spotlight.

"Dancing With the Stars" can be a great platform for a disgraced politician to shimmy away from the scent of scandal -- just ask Tom DeLay. Herman Cain's presidential campaign may have been rocked by multiple allegations of sexual harassment, but as Cain proved in South Carolina when he teamed up with Stephen Colbert, he's not opposed to embracing the ridiculous to keep his name in the headlines.

Thanks to a reunion with her former "Three's Company" co-star Joyce Dewitt, Somers in back in the spotlight. Decades after she played the blonde bombshell Chirssy Snow, she seems to be back on track to staying fit and what better way to maintain that than on "Dancing with the Stars"?

Considering the former "scream queen" has since seemingly disappeared from horror movies and has shown up in the audience of "Dancing With the Stars" on many occasion, you can see how'd we get excited about the prospect of Jamie Leigh Curtis. The actress herself has crushed any rumors that she's appearing on the show. In September, she told NBC New York that they knocked, but she told them she's "not home."