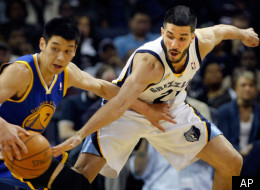 Jeremy Lin is making waves as a point guard for the New York Knicks, but people have also noticed he has an unlikely background who scored 25 points in his last two games -- he's a Harvard grad.
The New York Times notes there aren't very many Harvard grads to have played in the NBA. However, there have been some hall of fame athletes to come from the Ivies.
Check out our slideshow of Ivy League grads (like Jeremy Lin) who later became pros!
Jeremy Lin, point guard for the New York Knicks, is the NBA's first American-born player of Chinese descent. Lin graduated from Harvard and was undrafted coming out of college.

Baseball legend Lou Gehrig attended Columbia University in New York before signing with the New York Yankees in 1923.

Before Bill Bradley was a presidential candidate, U.S. Senator, or even a hall of fame NBA player, he was a Rhodes scholar who attended Princeton University. He also studied at Oxford and earned a gold medal in the Olympics in 1964.

For 12 years, Calvin Hill was a running back in the NFL. But he got his start at Yale University. He was also fraternity brothers with George W. Bush while he was there.

Currently a quarterback for the Buffalo Bills, Ryan Fitzpatrick played college football at Harvard.

Ken Dryden left his home country of Canada to attend college at Cornell before going into the NHL as a goaltender, later becoming a hall of famer. He has also served as a Liberal member of Canadian Parliament.

George Starke played for the Washington Redskins after graduating from Columbia University in New York.