KFC China's 'Handsome Delivery Boy Service' Reportedly Satisfies Hungry Customers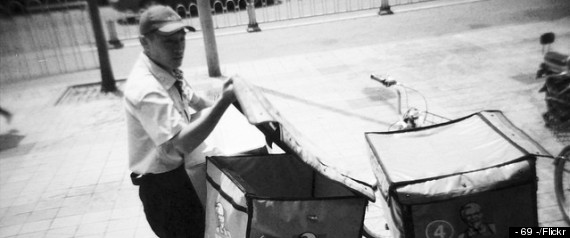 It's more than just service with a smile; in China, that smile might come with a side of dimples, as KFC has begun offering a "handsome delivery boy" service, upon request, according to some satisfied customers quoted by the Digital Journal.
Rumors started flying on the Asian microblogging site Sina Weibo, where user "bosnia_woshikaogong" wrote that she placed an order on the official KFC site, adding that she wanted a handsome man to deliver the meal, Xinhua news agency reports. "Bosnia" then wrote that her request was fulfilled by a "rangy, handsome delivery boy with big eyes and white skin" and that KFC even called her 10 minutes later to confirm that she was satisfied with the food and eye candy. China Daily reports that the Sina Weibo post has been forwarded more than 41,000 times and has received more than 5,000 responses, with many satisfied customers taking photos alongside their delivery boys.
KFC has denied the "handsome delivery boy" service on its own Sina Weibo page, according to What's On Xiamen, saying it only offers "normal delivery service." But despite the denial of its existence, the attractive service has garned continual requests, with a China Daily reporter putting in an order and noting, "a medium-height handsome delivery boy came moments later," according to Digital Journal.
Rumors continue to roll, with customers speculating that the service is a secret marketing tactic by KFC, according to China Daily. The story comes at an especially crucial time for KFC, as Reuters reported on Feb. 7 that KFC parent company Yum Brands, Inc., plans to increase prices in China to offset rising food and labor costs. According to Reuters, Yum plans to add another 600 restaurants in China, where its brands include KFC, Pizza Hut, East Dawning and Little Sheep. CNN notes that Yum is one of the most successful American companies to enter China, where the company derives almost half of its worldwide revenue.
Also on HuffPost: