I sat down with Roberto Cavalli and his wife Eva on Tuesday at their New York City showroom to talk about the inspiration behind his new fragrance, Roberto Cavalli.
When the Italian designer embarked on an 18-months long journey to recreate his signature scent, he stayed true to his design aesthetic, tapping into what makes a woman feel sexy. The golden-hued perfume is blended with masculine notes of tonka bean, pink pepper and orange blossom, creating a surprisingly soft and sensual aroma.
Read on as the couple reveals their laid-back approach to scent making and how they've kept a spark in their marriage of 31 years. Roberto and Eva Cavalli. Courtesy Photo
How do you maintain romance when working with your husband?
Eva: Staying creative is something that you should conquer with your partner. Never be boring or normal. Every day I'm surprising him, even if it's just wearing two drops of perfume on a special evening.
Roberto: I love to be close to her and feel my fragrance. Every day is Valentine's Day!
What are the sexiest parts of the body a woman should wear perfume?
Roberto: Behind the ears and between the breasts -- I love it there.
What does this fragrance represent to you?
Eva: It evokes a very special woman. She's romantic, but very powerful. Just a few days ago, I met a friend by accident on the street and I said, 'Oh, that's such an amazing perfume!' And she told me that it was Cavalli. I was so proud because it's really for a woman that is rich on the inside.
Roberto: It's about that sweet part. It's not strong or vulgar. It's sophisticated. When I made the fragrance, I asked myself the same questions I do when I create a collection, 'How do I make it more sexy? Feminine? Glamorous and romantic?' It's special, yet unusual.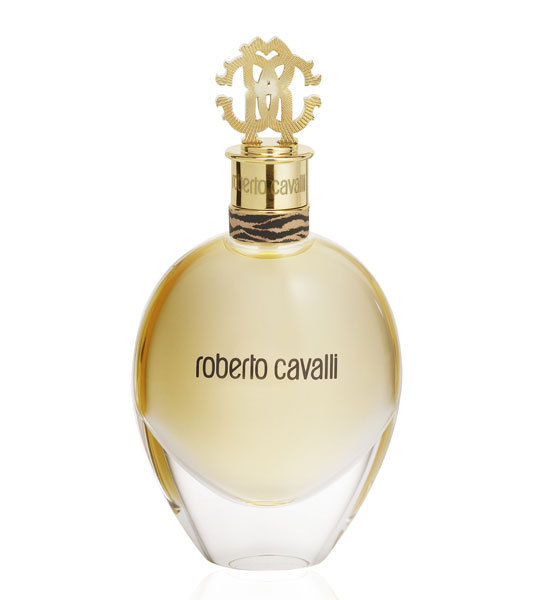 Roberto Cavalli perfume ($65-$85) will be available at department and specialty stores mid-February. Courtesy Photo
BEAUTY RELATED LINKS YOU MAY LOVE:

February's Brightest And Best Nail Polish Colors - BellaSugar

Beauty Test Drive: L'Oreal EverCreme Cleansing Conditioner - The Frisky

The Top 7 Fashion Week Beauty Essentials - Allure

One Woman's Quest For The Perfect Smile - Elle

10 Ways To Instantly Look Sexy - Daily Makeover
FOLLOW HUFFPOST