Susan G. Komen Fallout: Corporate Partners Stick With Charity Despite Lingering Concerns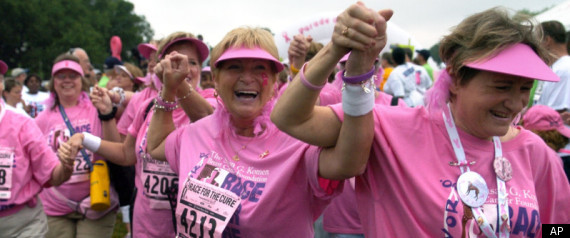 WASHINGTON -- Susan G. Komen for the Cure has gone through the biggest public relations crisis of its 30-year history during the past week. The breast cancer charity stopped funding Planned Parenthood for America, reversed that decision and then announced the resignation of the socially conservative vice president who was at the center of the firestorm.
Its problems, however, aren't going to end here. Komen now has the tough task of rebuilding trust among its donors, affiliates and network of breast cancer survivors, who for years have seen the group as not political and devoted to the singular mission of fighting breast cancer. Komen's corporate partners are a critical group.
The Huffington Post attempted to reach out to all of Komen's 196 corporate partners. Thirty-five of them responded, with seven declining to comment on the matter. While a few companies said they were reviewing their partnership with Komen in light of the controversy, nearly all said they were going to stick with the foundation. Still, many expressed concern that the apolitical organization they signed up to sponsor was no longer so.
RE/MAX began its partnership with Komen in 2002 for very personal reasons: Several people at the real estate company have been affected by breast cancer, including its CEO.
"RE/MAX is not a political organization," said Shaun White, vice president of corporate communications. "We do not support particular candidates. We do not support particular political causes -- we never have. We hate to see politics get involved in something like this. So we were very pleased to see Komen reverse itself and go back to its existing policy. We hope that takes the politics out of this whole thing because our no. 1 goal is to fight breast cancer."
On Monday, White told The Huffington Post that a Komen representative from a local affiliate was going to be at RE/MAX headquarters on Tuesday -- a visit planned prior to the controversy -- and he was hoping to "get a little briefing from them on what their plans are and what's going to happen."
"We're very concerned about it," he reiterated.
A spokesman for Chesapeake Bay Candle said the company was also troubled by the Komen controversy. "We are deeply concerned about Komen's decision to stop most of its financing of Planned Parenthood and welcome the reversal of this decision on February 3. We have reached out to Komen executives to confirm their future commitment to provide access to breast cancer screenings to all women and currently deliberate if and how to continue our partnership with the organization," said the spokesman.
Eva Wong, the "minister of enlightenment" for the Republic of Tea, said her company was considering whether to continue its partnership, which dates back to 2001.
"The Republic of Tea recognizes Susan G. Komen for the Cure's apology to the American public," Wond said. "The Republic of Tea has a long history of supporting the fight against breast cancer. We have received feedback from our Citizens (customers), and we conveyed that feedback directly to Susan G. Komen for the Cure, and we are currently reviewing our Sip for the Cure program."
Many companies may be reluctant to break the Komen connection because their own philanthropic identity is tied up in the partnership. Quite a few of Komen's corporate partners highlight the connection on the front page of their website, and Otis Spunkmeyer even talks about Komen in its hold "music" on the phone. The question for companies now is whether that partnership is still supports their image.
ACCUSED OF 'PINK-WASHING'
Komen, which did not return a request for comment, has had a complicated relationship with its corporate sponsors. In 2010, for example, the foundation and Kentucky Fried Chicken launched Buckets for the Cure. KFC promised to donate 50 cents to Komen for every bucket of chicken sold, with the ultimate goal of contributing $8 million. But the partnership generated significant criticism because eating fatty foods high in calories has been linked to breast cancer.
There was a similar controversy last year when Komen commissioned a perfume called Promise Me. Funds from the sale of the perfume go toward breast cancer research, but an advocacy organization said that some of the chemicals in the concoction were linked to cancer in animals and hormone disruption.
Breast Cancer Action is the leading group behind these Komen criticisms. Ten years ago, it launched the Think Before You Pink campaign to shine a light on "pink-washing" -- that is, using the iconic breast cancer pink ribbon to sell products with ingredients that are known or suspected to increase the risk of cancer.
Karuna Jaggar, executive director of Breast Cancer Action, hopes that Komen will use the current controversy as a reason to take a step back and look at its larger strategies.
"Komen is in a unique position to urge companies that want to partner with it to take steps to make sure its products are safe," said Jaggar. "That's an opportunity for Komen, right now, as it evaluates its own giving, to take a look at where it's getting its money and the standards it's going to apply to that -- not only the standards that it's applying to its gift-giving."
"When we tell people to take a look at pink-ribbon products, we're not simply saying, 'Don't buy them' or 'Don't support breast cancer,'" she added. "The issue is not that breast cancer has too many resources. The issue has to do with the allocation with those resources and accountability, transparency and efficiency."
Many corporations -- and not necessarily ones that are, by Breast Cancer Action's definition, pink-washers -- are eager to continue their partnership with Komen.
A spokesperson for Conde Nast Publications, which runs Rally for the Cure, told HuffPost, "We are pleased that there has been a resolution to the controversy as Conde Nast and other brands have long supported women's health initiatives, including the 1992 Founding of the Pink Ribbon by SELF magazine and Evelyn Lauder. We're proud to continue our support and coordination for Rally for the Cure."
Companies may not be drawing back from Komen in part because, while a significant amount of public pressure targeted the charity over the past week, there seems to have been less pressure on its corporate partners.
A couple of petitions were started on Change.org aimed at Komen's sponsors, but they really didn't take off. Although a few corporations said they received some negative feedback, most reported little to none.
Since the Planned Parenthood controversy broke, Komen has put together plans to hire some high-profile public relations firms and figures to help with the damage control.
Ariel Edwards-Levy contributed to this article.
SEE the full list of responses from Komen's corporate sponsors on the following page:
Subscribe to the HuffPost Hill newsletter!