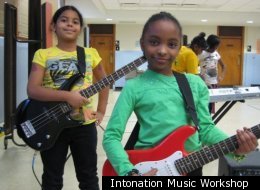 While some Chicagoans might be on the prowl for a significant other as Valentine's Day approaches, more than 100 women and 70 organizations will gather at Chicago's Chase Tower Wednesday night looking for another kind of perfect match.
Women on Call, an organization founded in 2005 by Chicago philanthropist Margot Pritzker, will hold its annual Meet and Match event Wednesday, where those eager to find the perfect place to volunteer can get to know some of the state's charitable organizations.
Pritzker started Women on Call after decades of volunteering, after realizing that nonprofits were desperately in need of "high-caliber" volunteers with professional skills. The "Meet and Match" event allows women to meet with 8 to 10 nonprofits in a "speed dating" setting. This year, participants will also hear from keynote speaker Mellody Hobson, president of Ariel Investments and a regular financial contributor on Good Morning America.
Huffington Post reporter Matt Sledge recently spoke with one participating organization, Urban Initiatives, about how they are helping Chicago kids stay off the streets.
If you have been interested in volunteering but aren't quite sure where to begin, learn more about Women on Call here. We also rounded up some of the nonprofits who will be meeting with volunteers Wednesday night below. Links to their individual pages are included.
Established in Oak Park in 1985, AACF has been helping Chicago and suburban Chicago families for over 20 years by providing vocational skills training and job placement services and programs for the unemployed and underemployed. The economic development services that AACF provides is one of the most cost-effective ways to increase self-sufficiency among low-income residents of Chicago's western suburbs and supports the aspirations of hundreds of local Chicagoans. Supporting AACF can lead to a summer job for an at-risk youth; vocational training for a struggling neighbor; and computer skills training and job placement services for the unemployed.

Women of Zoë is a faith-based not-for-profit organization focusing on the whole of women -- mind, body and soul. We are a community of women caring for other women. We strive to assist women who have lost hope and aiding them to find their own strength and power through mentoring and coaching.

Mindful Medicine Worldwide is a nonprofit organization established in 2009, which seeks to bring long-term integrative health care to people of developing areas, domestically and internationally, by establishing and operating integrative health care clinics. Their professional volunteer practitioners provide medical services and healthcare education to patients as well as create sustainable health practices by educating local people to be integrative health workers within their communities. Mindful Medicine Worldwide is rooted in a practice of mindfulness, education, research and training.

New Moms equips struggling, impoverished adolescent parents and their children with the tools to permanently change their life stories from being chronically dependent on society to being contributing members of their communities for generations to come. Personal and professional training and a value system that balances love and accountability help participants develop the skills and confidence necessary to achieve lasting economic independence and family stability.

The American Red Cross of Greater Chicago serves more than 9.6 million people in northeastern Illinois and northwest Indiana. Today, in addition to domestic disaster relief, the American Red Cross offers compassionate services in five other areas: community services that help the needy; support and comfort for military members and their families; the collection, processing and distribution of lifesaving blood and blood products; educational programs that promote health and safety; and international relief and development programs.

Child's Play Touring Theatre is an award winning professional, non-profit theatre exclusively dedicated to performing stories and poems written by young authors. Child's Play believes that by combining the important, imaginative writings of children with the craftsmanship of professional theatre artists and educators, they create a unique stage where children's voices can be heard, examined and treasured. To date, the organization has reached over 4 million children, educators and adults through workshops, residencies, after school programs and summer camps.

Street-Level Youth Media educates Chicago's urban youth in media arts and emerging technologies for use in self-expression, communication, and social change. Street-Level's programs build critical thinking skills for young people who have been historically neglected by public policy makers and mass media. Using video and audio production, graphic design, digital photography, and the Internet, Street-Level youth address community issues, access advanced communication technology, and gain inclusion in our information-based society.

The Illinois Science Council does public outreach in science and technology for an adult audience. We're the science & tech complement to the arts & culture outreach organizations, and the adult counterpart for the kid-focused science organizations.

HandsOn Suburban Chicago is a nonprofit connector organization devoted to improving lives by developing, advancing, and promoting meaningful community volunteer initiatives throughout 45 suburban towns and villages in northern Cook and DuPage counties. Our website contains hundreds of volunteer opportunities that are searchable with filters to find exactly what you are looking for.

The Neighborhood Writing Alliance provokes dialogue, builds community, and promotes change by creating opportunities for Chicago residents to share their stories. Our writers' words, published in the Journal of Ordinary Thought, challenge preconceptions, generate new ideas, and spark dreams. www.jot.org

Book Worm Angels is Chicago's only literacy program providing in-classroom lending libraries to public elementary schools where the majority of students read below grade level.

Annie's Legacy is a resource center which provides a 9-month, one-on-one mentoring experience as well as life skill workshops to women survivors of domestic violence and other setbacks. The experience empowers women to become strong, confident contributors to their communities.

ICMC is committed to reducing infant and maternal mortality by building a maternity healthcare center and clinic attended by skilled healthcare providers. Their project is in Braffoueby, Ivory Coast where President and Founder Patricia Nau Mertz served in the Peace Corps for 17 months until they were forced to evacuate because of an attempted coup d'etat and violence in 2002. The clinic will provide pre-natal and post natal care, immunizations, prevent the spread of HIV from mother to child as well as treat tropical diseases, and also help prevent the spread of diseases through education to the community. The clinic is scheduled to open this month after 3 years of fundraising.

The Smart Farm aims to cultivate a healthy, eco-friendly community by offering adults and children learning opportunities in sustainable gardening; promoting the benefits of sustainable gardening and donating fresh produce to support neighbors in need.

The Save Abandoned Babies (SAB) mission is simply to save the lives of newborn infants that might otherwise be illegally abandoned. SAB is a 100% volunteer nonprofit organization whose mission is to save the lives of newborn infants that might be illegally abandoned by making parents aware that a safe, legal option exists. The Safe Haven law allows a parent to leave an unharmed newborn baby, 30 days old or younger, with staff at a hospital, police or fire station under the Safe Haven law.

North Shore Chamber Music Festival's mission is to present concerts in metropolitan Chicago as well as provide educational and performing opportunities to talented and emerging young musicians in the local area. NSCFM works to help young children in the Chicago area develop their musical talent and further develop a love for chamber music, with no regard for socioeconomic factors, as well as give something back culturally to the place community.

Intonation Music Workshop (IMW) empowers children to become rock stars on all of life's stages through innovative music education. IMW's band-based after-school music program gives students the chance to learn new skills, make new friends, express their creativity, and find their niche by playing in a pop band.

Harmony House for Cats is a cageless, no-kill shelter committed to providing the highest quality care for the cats and kittens. Every new admission receives comprehensive veterinary care including a thorough examination, spaying or neutering, vaccinations, testing for Feline Leukemia and FIV, treatment for fleas, earmites, and internal parasites, and an AVID microchip. They also treat many bite wounds, broken bones, and traumatic injuries received while living on the streets of Chicago.

The Gift of Adoption Fund is a national charitable organization that inspires adoption by providing grants to qualified parents - giving children who need families a permanent home and a chance to thrive.

Operating a national network of resource centers, LIFT engages hundreds of volunteers (advocates) to work one-on-one with low income community members (clients). Together, they locate resources that enable clients to find employment, secure safe and stable housing, make ends meet through tax credits and public benefits, and obtain quality referrals for services like healthcare and childcare. As clients make progress on the path to opportunity, LIFT advocates are empowered and transformed as they gain a better understanding of the realities of poverty and the actions necessary to change the systems and policies that stifle social mobility. At a time when more people are suffering and fewer services are available to them, LIFT is committed to working with those most in need to not only achieve stability, but to see their full potential realized.

Changing Worlds is an educational arts nonprofit whose mission is to foster inclusive communities through oral history, writing and art programs that improve student learning, affirm identity and enhance cross-cultural understanding. For 15 years, Changing Worlds has partnered with more than 50 public schools, community-based and civic organizations in Chicago and beyond. Annually, it reaches more than 10,000 students, and communities members through its combined arts and cultural awareness programs.

Between Friends is a 501(c) (3) non-profit organization dedicated to breaking the cycles of domestic violence throughout Chicagoland. Between Friends offers domestic violence survivors resources and support to help them rebuild their lives and move into safer and healthier situations. In addition, Between Friends addresses domestic violence as a community issue and offers extensive education and training programs for groups throughout the Chicago area to help prevent domestic violence before it begins.

During the past 24 years, Women's Initiative for Self Employment has provided more than 24,000 high-potential, low-income women with the training, resources, and on-going support needed to start and grow their own businesses. Their services are provided both in English and Spanish to help women achieve economic self sufficiency, create jobs for themselves and others, and build vibrant business communities in the neighborhoods where they live. Women's Initiative has a proud history of innovation aimed at helping women succeed as entrepreneurs. Most current research shows that more than 5,500 jobs were created and retained by Women's Initiative graduate businesses in 2011. Seventy percent of graduates are in business with consistent sales five years after graduation. In contrast, less than 50% of new business ventures typically service to the five year mark

Step Out USA, Inc. is a not-for profit organization started in 2003 by parents and professionals to create social, cultural, recreational and educational connections for adults with learning disabilities.

Pictured: Chicago Foundation for Women and participants from Belize, Nicaragua and Chicago on November 17, 2011. The women, all leaders in their home country NGOs, are taking part in a professional exchange program --"Developing Grassroots Organizations for Women in Belize and Nicaragua,"-- funded by the U.S. Department of State. The two year program, designed and implemented by Heartland International is building the capacity of grassroots organizations in Belize and Nicaragua, enabling them to more fully realize their goals of empowering women, preventing domestic violence and promoting education on the rights of women. The meeting on 11/7/11 provided insight into how a funding organization like CFW works to support women and girls and shared best practices and models that could be applied in other countries. This meeting was an example of the 3-week program that took place in Chicago, following a reciprocal exchange of Chicago NGO leaders in Central America. They have formed multinational teams to develop joint projects in the program theme areas that will have a lasting impact on their societies. Altogether 52 participants are involved in this program.

Bin Donated is a Chicago based 501(C)3 which works with companies and individuals through its dedicated barrel network to coordinate donation drives for companies, foundations and nonprofits. Bin Donated specializes in being an aggregator of in-kind donations for other Chicago area nonprofit organizations (NPOs), thereby increasing operational capacity, helping further their missions and as a result developing the Chicago area at-risk communities. They collect necessary items for NPO's such as hygiene products, coats, food, toys, books, school supplies, office supplies and pet supplies.

"I AM YOU", "a 501c3 not-for-profit organization that engages and empowers female youth in the areas of mentoring, business etiquette, workforce development with a concentration on retail training,and entrepreneurship creation/development in an live enterprising environment."

Nurture's mission is to empower low-income family members of all ages (children, teens and adults) with the tools and resources needed to prepare healthy and delicious meals, even when faced with limited time and budget.

Urban Initiatives currently serves 4,665 Chicago Public School students at 21 schools throughout the city. Their programs take a collaborative, whole child approach to development in order to provide children with the opportunity to reach their full potential. Participants in programs have experienced boosts in areas such as academic engagement, health awareness, and self-esteem.

Mobile C.A.R.E. Foundation is Chicagoland's premier organization for no-cost, comprehensive medical care and health education for asthmatic youth. Year-round, over 3,000 patient visits are conducted in underserved communities aboard our "doctor's offices on wheels", the Asthma Vans. Mobile C.A.R.E.'s medical team empowers children to gain control over their asthma. As a result, patients experience fewer asthma-related school absences, emergency room visits, and limits to physical activity, and live healthier, happier lives.

The Harbour is a community-based agency providing essential services to runaway, locked-out, and homeless girls ages 12-21 in the north and northwest suburbs of Chicago. Their goal is help youth achieve self-sufficiency through our four core programs: * Safe Harbour Emergency Shelter * Transitional Living Program * Independent Living Program * Successful Teens/Effective Parents ("STEPS") Their programs maintain youth in stable housing, education and employment, provide parenting that may be absent in their own lives, and nurture them toward independence and success.

Sistahs S.T.R.O.N.G. (Striving to Reach Our Next Generation) is a not for profit mentoring organization. Their mission and goals are to empower young ladies ages 8-18 through communication skills development, etiquette training, civic and community involvement and awareness, and leadership training and development. They inspire and motivate by providing professional skills and foundations to live a life of integrity and respect.

Formed in March 1996, The Dance COLEctive challenges assumptions about how dance is presented through cutting-edge choreography, innovative collaborations, and inspired and creative site-specific-works. TDC's vision has led it to become one of Chicago's premier dance ensembles, recognized for its compelling, socially relevant, and inspiring choreography.

826CHI is a non-profit organization dedicated to supporting students ages 6 to 18 with their creative and expository writing skills, and to helping teachers inspire their students to write."

Babes With Blades Theatre Company (BWBTC) uses stage combat to place women and their stories center stage. Through performance, script development, training, and outreach, their ensemble creates theatre that explores the wide range of the human experience and cultivates broader perspectives in the arts community and in society as a whole.

Taproot Foundation is a nonprofit organization that makes business talent available to organizations working to improve society. We engage marketing, technology, strategy, design, and HR management professionals in pro bono projects, called Service Grants, which benefit local nonprofits. Our goal is to ensure that one day all organizations with promising solutions will be equipped to successfully take on urgent social challenges. Since 2001, Taproot has awarded nearly 1,900 Service Grant projects to nonprofits across the nation, delivering a total of over $91 million in pro bono consulting. Through our Service Grant program, 6,000 pro bono consultants have volunteered more than one million hours of pro bono service to help strengthen the nonprofit sector.

No Wooden Nickels provides indirect expense assistance to low-income cancer patients throughout the state of Illinois. Their primary focus is access to treatment through transporation assistance as well as utilities, meals, medication, co-pays and many other expenses. NWN has assisted over 800 patients since its inception in 2005.

Since 1970, Lakeview Pantry has been providing food for their neighbors in need. Over the past year, they distributed 1.4 million pounds of food and served more than 12,000 clients. The Lakeview Pantry Bootstraps case management program helped over 950 clients with job search assistance, housing stability, and access to health care. And their Home Delivery Program delivered groceries to 185 elderly and disabled neighbors each and every month. To learn more about Lakeview Pantry and ways to get involved, visit their website at www.lakeviewpantry.org."

Here are two photos of Family Literacy Program participants at Howard Area Community Center (HACC). The Family Literacy Program is one of 20 HACC programs serving children, youth and families living in the Rogers Park neighborhood of Chicago. Since 1967, Howard Area Community Center (HACC) has been a primary social service agency for children, youth and families in the community. During that time, our mission is to "improve the quality of life in Chicago's Rogers Park community in stabilizing their lives and developing the skills necessary to become produce community members" has remained consistent with the needs of Rogers Park residents. HACC accomplishes this mission by delivering comprehensive prevention, emergency, and educational programming to over 9,000 individuals annually to help them meet their basic needs and achieve self-sufficiency.