"We're coming up on our one year anniversary on February 16th and wanted to offer some new site features," says Magnusdottir dressed in an orange and white, floral Gucci dress that she describes as "boho glam." "We're also pushing opening up the site. Initially when we launched, it was the first time that anyone had done this concept of pre-order, and the designers wanted to do it in a very careful way because it was their most precious product, so we wanted to make sure we got it right, but now this has become a normal part of their business. So, it's time to give access to a bigger group of customers." She continues, "There was a level of exclusivity that we thought we needed to have when we first started, but then our membership base grew from a couple thousand to 120,000."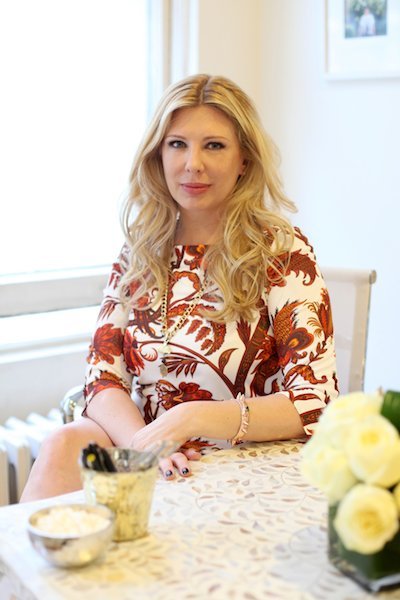 Photos by Bobby Doherty/AOL
A crazy number laughs Magnusdottir, considering that she and Santo Domingo originally thought Moda Operandi might be a physical retail store. "Lauren really wanted to start a boutique here in New York, but eventually we thought about that bigger customer group, and I'm so glad we did!" In doing so, Moda has been able to command a pretty fierce average transaction -- $1,400 to be exact. According to Magnusdottir, that goes up considerably during fashion weeks. "People tend to buy more than usual and ready-to-wear is much more expensive than what we sell in between seasons."
So, who is this high-spending consumer? "Our girl is someone who knows the trends before they happen and look online immediately when shows are happening," says Magnusdottir. "They love fashion so much, so they're thrilled they get to be a part of it all."
To further entice these well-heeled ladies, Moda has even more to labels to offer this season including Marni, Jason Wu and Rachel Zoe. "We are always looking at the mix," explains Magnusdottir. But there are others that aren't on the site yet, that the team is always looking to, "Celine is very high on the list for everyone in the office, Chanel is another one, Lanvin we aren't working with yet. We're very new, so we understand why they want to make sure that the brand mix is correct and we continue to evolve."
With such high fashion standards, Magnusdottir admits it is somewhat "stressful" getting dressed for work. "We have a very fashionable team. I never wear pants, I only wear dresses. There are a lot of different styles here. We have edgy downtown girls and uptown girls, but we are an Internet company, so we also have a lot of techy boys working here. It was funny when our CTO, Matt joined us, he was basically the first employee. Waris [Ahluwalia], who's a dear friend, and I took him shopping for a new wardrobe. He wanted to fit into the fashion culture!"
So is that the standard treatment for all new hires? She laughs, "We certainly don't do that anymore!"
FASHION RELATED LINKS YOU MAY LOVE:

How To Rock A Pencil Skirt Out Of The Office - Refinery29

20 Winter Trends That Look Good On Everyone - Glamour

Could Stuart Weitzman Be the Next Manolo Blahnik? Lucky

See Really Old Polaroids of Candice Swanepoel, Miranda Kerr & More - The Cut
FOLLOW HUFFPOST