Horrific accounts of torture and ill-treatment suggest that abuse runs rampant in Syria's detention facilities, rights organizations report.
According to a report released last month by the activist group Avaaz, Bashar Assad's regime uses at least 416 detention centers to torture its opponents.
Avaaz estimates that some 69,000 people have been detained since the start of the uprising last March. 32,000 have been released, many after being subjected to torture and violence.
Testimonies from survivors collected by the organization list allegations of torture by electrocution, severe beatings, sleep deprivation, and the removal of nails, among others.
In this branch, one of the techniques is that they put the head of someone and squeeze it between two iron walls, and this sometimes smashes their heads in -- some people have died from that. Another is a wooden bed of two pieces that folds together at the middle. It's called the German Chair. Sometimes they put you on your stomach and fold it so that your legs reach your head and your spine is broken and you are paralyzed.
Thousands of people have died since the regime of Syrian president Bashar Assad launched a brutal crackdown on protesters in March 2011. The U.N. estimates that at least 5,400 people have lost their lives. Some rights groups claim that the death toll tops 6,000.
A U.N. report from November 2011 established that arbitrary arrests and unlawful detentions are widespread. According to the U.N., detainees are held in the offices of the security forces and prisons or transferred to open stadiums, schools and hospitals.
Numerous victims of torture and other forms of ill-treatment were interviewed. Many were subjected to severe beatings with batons and cables. They also endured prolonged stress positions for hours or even days in a row, electroshocks and deprivation of food, water and sleep.
Human Rights Watch also has accused the Syrian regime of widespread torture in detention centers, including against children. The organization warned that children were being held in solitary cells or overcrowded group cells, sometimes deprived of food and water.
"Children, some as young as 13, reported to Human Rights Watch that officers kept them in solitary confinement, severely beat and electrocuted them, burned them with cigarettes, and left them to dangle from metal handcuffs for hours at a time, centimeters above the floor," the organization writes.
According to Avaaz, detention facilities are scattered throughout the country.
Check out Avaaz's map below to locate Syria's alleged detention centers.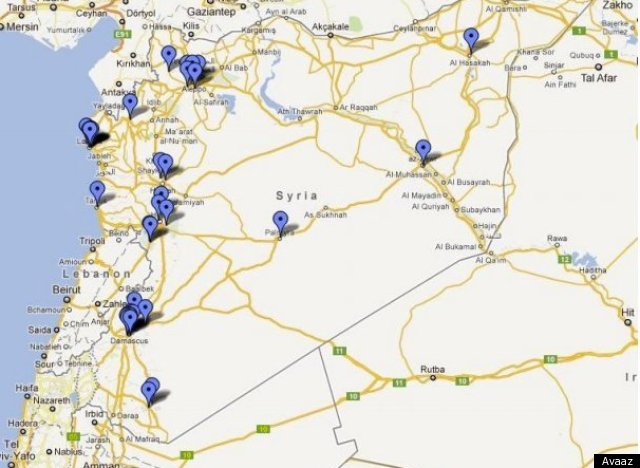 FOLLOW HUFFPOST