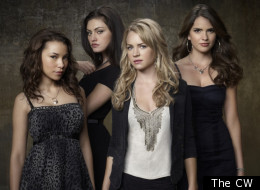 It's Valentine's Day for fans of the CW's "Secret Circle," and the girls aren't exactly thrilled about it. On the Feb. 9 episode, titled "Valentine," Faye (Phoebe Tonkin) decides to throw an anti-Valentine's Day slumber party, and Cassie (Britt Robertson), Melissa (Jessica Parker Kennedy) and Diana (Shelley Hennig) are all on the invite list.
"We totally break out the Ouija board and there will definitely be a pillow fight or two," Kennedy told HuffPost TV via phone. "But even though we call it an anti-Valentine's Day party and say that we don't want anything to do with boys, the first thing that we do is conjure up some cute boy to deliver us pizza. [Laughs.]"
However, what's a slumber party without a bit of drama? Faye and Melissa aren't really on the best of terms, and it has something to do with Melissa's new bad boy love interest.
"Melissa is just branching out and looking for comfort," says Kennedy. "But she's searching in the wrong places right now."
Melissa may still has her eye on Callum (Michael Graziadei), the mysterious drug dealer she met last week; but more importantly, she continues her dangerous love affair with Devil's Spirit, the magical mood-enhancing drug that Callum brought to Chance Harbor.
"By her taking that drug, it was a way for her to escape all of the pain she felt after Nick's death," says Kennedy. "She wants to have fun, and Devil's Spirit makes her feel good. It allows her to take her mind off things, but unfortunately, it's through the wrong medium. She's got to have some of these dark adventures first, before she can become a normal teenager again. Hopefully, she comes out of the other side okay."
But Melissa isn't the only witch dabbling in the Devil's Spirit. To help take her mind off Adam and Cassie, Melissa offers Diana the mood-altering Devil's Spirit, and the first person Diana happens to loosen up around is Lee, who crashes the girls-only party to help Faye achieve her own power. "There's a lightness in the episode, from Melissa and Diana, that is just really delightful," teases Kennedy. "We just had the most fun at that sleepover."
In the wake of Faye and Melissa's fight, expect Melissa to turn to her old friend Diana for comfort.
"Diana and Melissa were really close when they were little, so that's a really comfortable place for her," says Kennedy. "Melissa wants to be herself without the drama, and right now, Faye brings drama everywhere she goes."
While Melissa will start rekindling her close friendship with Diana, she hasn't yet had a chance to become close with fellow circle-sister Cassie. But will things change when Cassie's father John Blackwell comes back to Chance Harbor?
"Melissa is very pragmatic," Kennedy explains. "She has a lot of concerns about John Blackwell, which we all do, but she's still cautious around Cassie, so she's not exactly going to warm up to Blackwell anytime soon. Yet, at the same time, Melissa might start to get to know him a little bit better, and her opinions of him may start to change as time goes on."
"The Secret Circle" airs Thursdays at 9 p.m. EST on The CW.
As much as we love "The Secret Circle," Melissa wasn't the first teenage witch to cast a spell on us. Check out our favorite supernatural characters below.
Alex, the middle and only female Russo child on "Wizards of Waverly Place," is perhaps the most sarcastic character ever to grace the Disney Channel and it's hard not to love her. Although she typically winds up in trouble -- either for her sharp tongue or her constant schemes -- it takes a lot of brain power to come up with the words and devious plans she does. While her older brother/arch nemesis Justin excels in both wizard and high school, it's Alex (Selena Gomez) who has the street smarts. As she says in one episode, "I am too book smart! Sure, I don't read books, but I hollow them out and hide things in them." Maybe she even has enough smarts to win the family wizard competition after four seasons of ups and downs.

OK, so "supernatural" may not be the correct term here, but c'mon, what is she? It's very clear that Starbuck (Kathryn Ann Sackhoff) died in that explosion, was gone for several months, and then returned to the battlestar without a scratch and no recollection of what happened. And then, in the series finale, she just vanished into thin air, literally. We're semi-concluding that she was some sort of supernatural being who existed in humanity for a brief period of time to alter history for the better -- and that's pretty damn cool.

For six seasons of "Lost," the steely-eyed, salt-and-pepper-haired Man in Black (Titus Welliver) had many viewers fooled. He appeared in multiple forms: Christian Shephard, Walt, Eko's brother Yemi, Ben's daughter Alex, Richard's wife Isabella, a grumbling black cloud known as the Smoke Monster, and of course, eventually, John Locke. After fighting with his brother Jacob for centuries without any actual violence -- since their mother had prevented them from hurting one another -- the Man in Black eventually found a "loophole." That fact he was able bide his time and calculate his plan of attack over the course of hundreds of years is undoubtedly impressive.

Being married to a mere mortal didn't stop TV's most bewitching witch, Samantha Stephens (Elizabeth Montgomery), from twitching her nose to get things done. Her powers of persuasion also kept spell-casting mom Endora from jinxing things with hubby Darrin.

After nearly getting run over by a truck and doused in a top-secret chemical called GC-161, Alex Mack (Larisa Oleynik) acquired an excellent set of supernatural powers. She could move things with her mind, shoot lightning bolts out of her fingers and turn herself into a puddle of liquid. And if navigating junior high wasn't difficult enough on its own, Alex had to use her sharp wit to stay one step ahead of the management of the Paradise Valley Chemical Plant, who were on a mission to find and conduct scientific research on the mysterious girl who had been exposed to GC-161 so they could turn it into a weight loss drug.

Somehow Sookie Stackhouse (Anna Paquin), a small town (telepathic) waitress from Louisiana, attracts every incredibly good-looking supernatural being from Bon Temps to Mississippi. Seriously. She's been with vampire Bill and Nordic badboy Eric; not to mention, ripped werewolf Alcide has been following her like a lost puppy dog since Season 3. We have to agree with Pam on this one: There's just something about Sookie's "fairy vagina." She may have a "stupid name," but Sookie is one smart telepathic fairy fangbanger.

Damon and Stefan Salvatore and haven't always been the closest of brothers, but when it comes to Elena, the two Salvatore brothers will do anything to protect her, even if that means selling his humanity to an evil hybrid named Klaus. Sure, on an individual level, Damon (Ian Somerhalder) and Stefan (Paul Wesley) doesn't always make the smartest team, but as a super vampy duo, these two will do anything to save the ones they love.

Piper (Holly Marie Combs) was kind of like the wet blanket in the Halliwell family. Sure, she could freeze time and make things explode, but she was never the daring Charmed One. In fact, as the middle child, Piper always had to be the peace maker between her two rowdy sisters, Prue and Phoebe. Sooner or later, she realized that trying to lead a normal life just wasn't going to happen, especially when you have Whitelighter for a husband and three supernatural kids to look after. Being able to balance her supernatural powers, a successful nightclub and a family with her frequent tendency to save the world definitely means that Piper ended up being the most powerful Halliwell of all.

After she graduated from explaining it all as TV's "Clarissa," Melissa Joan Hart took on a more powerful role. Growing up is a lot more fun when you've got some magical spells up your sleeve, and Sabrina's witchy aunts and spell-casting cat Salem definitely kept things interesting.

The U.S. version of this BBC hit introduced Sally (Meaghan Rath) as a ghost just getting her bearings, but she quickly became the heart of the home that houes the show's odd couple werewolf-vampire roommates -- quite a supernatural living situation. In Season 2 (which premieres Mon., Jan. 16, 9 p.m. EST on Syfy), she gets ghostly out in the real world, too.

You know how the saying goes: Never judge a book by its cover. Sure, Kelly (Lauren Socha), the fast-talking, brash young offender on E4's supernatural dramedy "Misfits," may be a total Chav, and she may not know what brunch is, but she's a rocket scientist. No, seriously, that's her power; she can understand rocket science. Doesn't that make her TV's smartest supernatural by default?

No matter what the show, TV writers are usually reluctant to kill off Mark Sheppard's characters, and it's easy to see why: They're usually memorably acerbic and delightfully devious. They're just too fun to kill. On "Supernatural," his demonic character, Crowley, has been a terrific foil for the Winchester brothers (whom he has dubbed "denim-clad nightmares") and their fellow hunter, Bobby Singer (whom Crowley once memorably smooched). Crowley -- who started out as a mid-level demon, but has slaughtered his way into a few promotions -- is the ultimate canny survivor: Whoever's in charge in Heaven, and whether or not he's in charge of Hell (and he usually is), you can never count this wily demon out. He's not necessarily a bad ally to have when an apocalyptic crisis looms. If nothing else, Crowley can be counted on to dole out more than his fair share of witty retorts and put-downs, which Sheppard delivers with perfect irascibility. This demon is proof that sometimes evil is pretty damned entertaining.

When CW viewers were first met high schooler Cassie Blake (Britt Robertson) on "The Secret Circle," she didn't even know she had supernatural skills. Fast forward to the middle of show's first season and Cassie is now the most powerful witch in town with both benevolent and dark magic brewing inside her tiny frame. But it's what Cassie's able to do with those powers that impresses us -- from setting her capturer on fire with her eyes to freeing a demon from a comatose woman's body, her intentions are always good, even if the end result isn't. Let's just hope it stays that way.