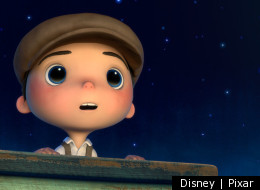 For a subject like short films, brevity is the key. So here's everything you need to know in a nutshell: the Short Film Oscars are broken into three categories: Live-action, Animation and Documentary. They come from all over the world and usually serve as the big spoiler in your Academy Award pool. The films arrive in theaters this weekend (check the full listings to see when they will arrive to a theater near you). Then they hit On-Demand and iTunes on Februrary 21. And lastly, they are an exciting and eclectic mix of stories that are absolutely worth checking out.
Now that you're up to speed, check out our recap of every short film competing for Oscar glory -- as well as are picks for the night's winners.
PHOTOS:
Short Thoughts on the Short Films
A delicate little story about a bored little boy looking for adventure, while stuck at a stuffy family party full of weird, gray, squawking relatives; the simple line-drawings and feelings of alienation recall Roald Dahl's best offbeat humor.

A dialogue-free tale of a dapper-dressed man that is carried away to a magical world -- somewhere between "Oz" and "The Phantom Tollbooth" -- where the books come alive; lush, painted visuals, a hint of bittersweetness and the cutest depiction of Humpty Dumpty make this a beautiful treat.

A young boy is taken out by his father and grandfather to learn the family trade and... actually, we won't spoil it other than saying it involves the moon; "Luna" is wonderfully imaginative, incredibly sweet and the very definition of "film magic."

A pet chicken maintains a daily walk around a NYC block; what seems like a simple routine plays out over a hundred year span of: jazzy silent film, iPhone-addled present day and grim zombie-infested future -- with colorful, geometric art design and controlled bursts of "Looney Tunes"-style slapstick.

A distinguished young Englishman goes against his parents' wishes and sets out for the wilds of Alberta, Canada to become a rugged cowboy; the atmospheric water colors and serene depiction of nature turn the melancholy short into a elegant rumination on life that recalls "Into the Wild."

Pixar hasn't dominated the shorts category, so it's time for them to get their due. But "Luna" isn't winning just because of that; it's a perfect film fairy tale that deserves to be honored, and will one day be mentioned in the same breath as classics.

The selection of nominated films is incredibly high-quality and any one of them is worthy of Oscar acclaim, but "Flying Books" edges out the other selections due to its imaginative premise and dazzling visual pallet.

A rambunctious boy in 1970s Ireland just wants to watch the big soccer game, but he's forced into being an altar boy for the archbishop; gentler folks will gasp at the movie's punk message of sticking it to authority (in this case: church), but it's a hoot.

A German couple travels to India to adopt an orphan boy, but when they lose him in a crowded market, their search uncovers a grim truth about the plight of impoverished youth; it's a message movie about serious issues(!), but a third-act twist eases the heavy-handedness a bit.

Ciaran Hinds (Aberforth Dumbledore from "Harry Potter and the Deathly Hallows Part 2") stars as a Belfast expat, returning home with American daughter in tow, that struggles to settle a conflict from his youth involving his best friend and ex-fiance; what appears to be a dour drama comes to life with absolutely gorgeous cinematography and heart-warming Irish humor.

A neurotic quantum physicist discovers the secret to time travel, but he can't stop wasting his breakthrough on correcting little mistakes he's made that day, like saying the wrong thing to his neighborhood crush; the Brooklyn-based short offers a clever (albeit one-note) twist on the sci-fi movie trope.

The Student Oscar winner for Foreign Language film tells the story of a tuba-playing, trigger-happy old Norwegian man, with six days to live, trying to reach his long-lost brother, while stuck with a medically appointed young aide known as an "angel of death"; cute, if at times cloying, execution.

It may be the longest short in the mix (30 minutes) but the pacing, humor, acting and art direction are all top notch. It's guaranteed to put you in a good mood. The Irish produced the two best shorts this year, and they deserve to claim the gold.

Existing somewhere between the grittiness of "Babel" and the melodrama of "Slumdog Millionaire," the Academy might just go ahead, pat themselves on the back and give it to the preachiest film in the bunch to prove some smug point about the transformative power movies can have on society or something.

The film chronicles MLK's barber James Armstrong, and his long history as an active crusader in the civil rights movement, on the eve of Obama's election; along with capturing rare stories from other activists, "Barber" is a poignant look at the progress of racial equality in America.

After debuting opposite Elvis Presley, and on the eve of becoming a superstar actress, Dolores Hart gave up Hollywood to become a Benedictine Nun; while the doc can't quite make her life story completely approachable, it pops with captivating energy when she interacts with her ex-fiance Don Robinson.

The Tribeca Film Festival winner documents Ethan McCord, a former infantryman on-hand for the 2007 attack that saw American choppers kill journalists and wound Iraqi children; after being discouraged to seek PTSD therapy, McCord became disgusted with the military machine and this film serves as an infuriating eye-opener on unchecked power.

A Pakistani plastic surgeon returns to his homeland to treat women who are the victims of acid attacks perpetrated by spurned men and abusive husbands; the scars of abuse are uncomfortable for the viewer, but it's a necessary expose of cultural conflicts throughout the world that impact gender equality.

Survivors of the 2011 tsunami attack in Japan tell their stories; it's hard to watch unbelievably horrific footage of whole towns being wiped away in the storm, but the people's will to rebuild, motivated by the approaching spring and blooming cherry blossoms, provide incredibly poetic inspiration.

As shocking as the tsunami footage is, it's powerful filmmaking; the survivors' testimonies of compassion and strength, aided by positively serene footage of flowers in bloom, really bring you through an emotional storm that ultimately ends with the message of "hope springs eternal."

The entire category weighs heavy on the viewer and the Oscar could be bestowed on any film to draw more attention to a number of societal issues. "Saving Face" edges out the others simply for its unprecedented access toward victims of a serious issue.