Snow In Chicago: 1 To 3 Inches Expected In City, Much More In Northwest Indiana (VIDEO)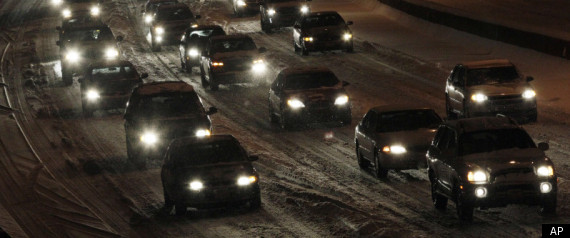 As snow already begins to fall in parts of Chicago in the early afternoon, meteorologists put the area under a winter weather advisory Friday.
As much as 3 inches of lake-effect snow is expected to fall in Chicago Friday, but the real weather story of the area is the foot of snow predicted for northwest Indiana, the Chicago Tribune reports. There, conditions will be nearly blizzard-like.
AccuWeather warned that, amid the snowfall and colder temperatures, the Friday evening rush hour could be a slippery, messy one.
While Cook and Will counties face a winter weather advisory from noon to 9 p.m. and Lake and DuPage counties until 6 p.m., northwest Indiana is expected to see intense lake-effect snow into the evening hours falling at a rate of at least 2 to 3 inches of snowfall per hour. The snow could conceivably total as much as 18 inches, according to the Tribune.
According to NBC Chicago, the southern suburbs could also see the impact of heavier snowfall akin to that expected in northwest Indiana.
The entire Chicagoland area is expected to see higher winds as the snow falls during the afternoon, NBC reports.
Temperature-wise, CBS Chicago reports that the cold will stall out around 32 degrees, but overnight the low could drop to a chilly 18 degrees. Saturday's high is only expected to reach 25.
Chicago's winter has thus far been one of the warmest on record in the city.
Related on HuffPost: