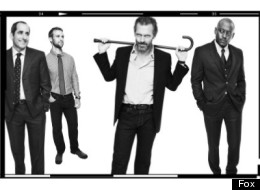 After eight seasons, "House" is coming to an end. It was announced this week that this current season will be the last.
"A true original, on the page and amazingly brought to life by Hugh Laurie, there is only one Dr. House," Kevin Reilly, president of entertainment at Fox, said in a statement. "The entire 'House' team has given us -- and fans around the world -- some of the most compelling characters and affecting stories ever seen on television. They have been creatively tenacious and collaborative throughout this incredible run, and they are amongst the most superior talents in the business. For all the above, we wholeheartedly thank them, and the fans who have supported the show."
Though it's never easy -- for fans, cast and crew -- when a show starts to sacrifice quality for quantity, series should do the right thing and say goodbye.
From another long-running medical drama to the current teen favorite that just won't quit, click through the slideshow below to see which shows overstayed their welcome on the small screen.
"House" just announced that this, their eighth season, will be their last, and we can't say we were too surprised. With only four of the original castmembers still working at Princeton Plainsboro, the show will have 177 episodes in the can, with even more unsolvable cases solved, by the time it wraps in April. We'll miss the good doctor, but we probably would be more nostalgic if they'd quit while the show was still ahead two seasons ago.

From painfully funny to just painful, it's been a wild ride for NBC's "The Office." After a few hit or miss seasons, series star Steve Carell bid the show goodbye at the end of Season 7. Rather then end on a high, emotional note, NBC renewed the show for an eighth season. The ratings aren't superb, but on struggling NBC, "The Office" is that much of a winner that the network is considering a spinoff following Rainn Wilson's Dwight Schrute. Memo to NBC: rewatch "Joey."

"Entourage" was a fun show, but its problems were only magnified the longer it stayed on the air. As it dragged on for eight seasons, the show became a parody of itself. Everything always worked out in the end, and the resolutions came so easily that they became meaningless. Whether it was Turtle becoming an accidental millionaire, Vince landing every part or Eric and Sloane reconnecting after he slept with her step-mom, the show fell into a pattern of lazy writing that even its most ardent fans struggled to defend.

When the majority of your cast leaves, it's time to close up shop. Rather than do that, "Scrubs" lasted for whopping nine seasons across two networks. It was never a ratings hit, but the chemistry between J.D. and Turk was the backbone of the series. Take that away and you have ... "Scrubs" Season 9.

Spanning six seasons and running from 1998-2003, we watched the kids from Capeside grow from high school freshmen to adulthood. With the small core of four (Dawson, Joey, Pacey and Jen), things started getting incestuous pretty fast, so a series of ringers were brought in to mix it up. But as the series stretched into its fifth season, plotlines and romances were getting pretty stale; we even followed Dawson to film college (yawn). You know when the parents are brought into the plot things are wearing thin, and the death of Dawson's father in Season 5 served as a convenient plot device to bring the whole gang back together. Then we randomly time-traveled five years into the future, and were subjected to the cliched finale of Joey's final decision: Pacey or Dawson, which, frankly, should have happened at the end of season 3.

Long before "Teen Mom" hit MTV, there was "Gilmore Girls," the story of Lorelai Gilmore and Rory, the now high-school daughter she had as 16-year-old herself in the picturesque Connecticut town of Stars Hollow, The show's fast-paced dialogue was filled with pop-culture references, which were well worth it if you were able to catch them. And though the mother-daughter respective will-they-won't-they relationships (with a "working class" uncle and nephew, of course) were initially interesting to watch play out, the romantic back-and-forths -- interspersed with irrelevant quirky townspeople -- became too much long before the series' final 7th season.

One of TV's greatest dramas, "ER" ran for 15 years. When the original cast started fleeing -- which is expected for a long-running drama -- new faces, like Maura Tierney, were brought in to help carry the show forward. But when helicopters started falling on doctors, small pox mishaps and every other catastrophe befell Cook County General, it became clear that "ER" should have closed its doors earlier, on a high note. (Fotos International / Getty Images)

It wasn't just the depleting tolerance for cheesy '90s sitcom-style comedy that led to the deterioration of NBC's "Friends." It was also the fact that every character became a parody of his or herself -- Monica even more loud and neurotic, Phoebe even more spacey and "quirky," Joey even more creepy Casanova-like, etc. Plus, the once romantic dynamic between Rachel and Ross grew tired. Once Rachel became pregnant at the end of Season 7 with Ross' baby and then started dating Joey, it was hard to hang around Central Perk (even though the series ended after its tenth season).

"The X-Files" had broken a lot of fans' hearts by the time it ended its run. Not only had the emotionally fraught, suspenseful mysteries of the first few seasons given way to a preposterously convoluted mythology that made little sense and wasn't worth following, key cast members David Duchovny and Gillian Anderson began to look bored by the whole thing (before they quit or reduced their screen time). The truth is out there: This show should have ended years before it did, but greed apparently trumped any artistic concerns.

With 53 deaths and counting on Wisteria Lane, "Desperate Housewives" has been desperate for attention for years now, using big events like plane crashes, bombs, stranglers on the loose and tornadoes to keep viewers tuning in. We've been promised even more death before this final season wraps, but we're so over the soapy shenanigans, we'll only be satisfied if we can see all of their dying moments onscreen.

This show is epic in almost every way: cast, subject matter and length of time it's been on TV -- it's just been renewed for a 14th season! If you stop to calculate, that means we've watched approximately 300 episodes of Benson (Mariska Hargitay), Stabler (Christopher Meloni) and team as they solve gritty crimes in New York City. In recent seasons, you can literally feel the production staff grasping for ideas, with nutty cybercrimes and impossible-to-believe scenarios leading them to the week's victim. Heck, even long-term cast member Meloni jumped ship, which is usually a sign the end is approaching.

There was a time when "Dexter" was one of the most cutting-edge shows on TV, but after six seasons, it's started to feel like a slightly darker cookie-cutter police procedural. Dexter Morgan started out as a complex-antihero that challenged viewers' moral codes, but increasingly, he's started to feel more like an indestructible superhero who can get away with anything without getting caught. The series six finale did provide a glimmer of hope, though, as Dexter was finally caught in the act by his step-sister Deb. Showtime has ordered two more seasons of the show, and for some reason, left the door open for even more. Here's hoping it can recapture what once made it great.

Spotted: yet another good show gone bad. There was a time when colored tights and headbands were in and so was "Gossip Girl." The former queen of The CW's teen-centric programming consistently brought high society, low blows and story lines within the acceptable realm of absurdity. Now in its fifth season (in which Blair is a princess bride on the run), not even Chuck Bass's one-liners can help us get past the ridiculousness that is "Gossip Girl."

Maybe it was Denny's return from the dead to have ghost sex with Katherine Heigl's character Izzie, or maybe it was the death of fan-favorite George O'Malley (we miss you, TR Knight). It could've been the behind-the-scenes drama with Isaiah Washington and his eventual departure, or maybe it was just that damn musical episode. There are so many moments where "Grey's Anatomy" has tested fans' patience, it's a wonder people are still watching. If we wait until Derek finishes building that dream house, it'll go on another eight seasons.