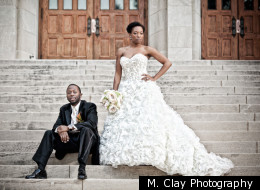 "Black Love" Wedding Announcements:
Getting married? Celebrating a wedding anniversary? If so, share your love with us, here at BlackVoices, and get featured on the site!
We've also teamed up with Munaluchi Bridal, the leading authority of bridal inspiration for women of color, to showcase the love and wedding celebrations from some of these amazing couples.
Enjoy and spread the love!
Diona Nicole Waller and Brian Murray were married on November 17, 2011. The bride, 30, is a senior designer and the bridegroom, 30, is a senior accountant. This twosome have known each other since the tender age of nine and were raised in the same church. But it wasn't until they were well into their twenties that their work in the church brought them back together. And according to the couple: "when we both took steps to live our lives more righteously and to truly seek God first, the Lord gave us the desires of our heart; each other."

Esther Leanu Miller and Bryan Logan Moore were married on October 22, 2011. The bride, 35, is a senior systems analyst with Health Partners of Philadelphia and the bridegroom, 45, is a trouble shooter at PSE&G. Although it was not "love at first sight," the couple met as professional photographers in Philadelphia. But after a trip together to the bride's home country of Liberia, their love blossomed. The bride on the couple's future: "Goals for our future include opening our own photography studio, were our love of the art and each other can be displayed in our work. Our relationship has truly been blessed due to our love for God and the continuing support of our family and friends."

Jaleesa Danielle Howard and Justin John Mosley were married October 30, 2011. The bride, 22, is a direct support professional at S.P.I.N. INC and the bridegroom, 23, is a water delivery representative for Crystal Springs Water Company. The couple resides in Philadelphia, Pennsylvania. The bride on meeting her husband for the first time: "It was the first day of my sophomore year in High School and just like any first day back at school it was filled with excitement. Little did I know I was meeting my future husband that day. I know that sounds cheesy but when you look back at things that's exactly what happened. We spent the whole school year becoming the best of friends. We truly just clicked."

Kelechi Ahanotu and Omotayo Ajayi were married on October 9, 2011. The bride, 30, is a contract administrator and the bridegroom, 38, is a NOC consultant. The couple resides in Atlanta, Georgia. They met a singles forum and after a bit a persuasion, persistence and charm Omotayo scored Kelechi's phone number. The rest is history. The groom on the couple's love: "God truly is amazing in the way He places two souls in very different people and enables them to share the same song. As different and imperfect as we both are, we are perfect together."

Kima Walker and Gemaron Willis were married on November 19, 2011 in Fort Lauderdale, Florida. The bride, 35, is a leadership and development training manager and the bridegroom, 41, is a software sales engineer. The bride on the couple's bond: "I would describe our relationship as a magical, maddening, and magnificent experience that has opened me up to life and all the wonders it has to bring. We find balance in each other and there is an intensity that can be frightening in the most wonderful way. We bring out each other's weaknesses and make them strengths and the strengths that we both possess become magnified. The unresolved issues and wounds that we might have had are gone."

Renata Ellis and Reverend James Ellis III are celebrating their fifth wedding anniversary. The couple was married on January 13, 2007. Reverend Ellis on his wife: "As much as it is complex and challenging, marriage is also awfully fulfilling. Without a doubt, my wife is my very best friend. Spending time with her isn't a chore, but a joy. There is no one on this side of heaven that I would rather do virtually anything with at any time." Read more about their inspiration love here.

Our Munaluchi Bridal feature couple... Catherine Lombel-Morlu and Zam Ladson were married on October 1, 2011. The bride, 29, is a licensed professional counselor and the bridegroom, 30, is a service manager. Catherine and Zam met each other at Johnson C. Smith University during the summer of 2000 at their freshman orientation. . They sadly lost touch but reunited seven years--and they haven't been apart since. The bride on her husband: "Zam makes it easy to love him and I enjoy being his wife. He greets me every morning when I wake and evening before I sleep with a smile, kiss and 'I love you.' What more can I ask for?" To read about Catherine and Zam's inspiring love story and see pictures from their beautiful wedding day check out check out their full feature MunaluchiBridal.com.