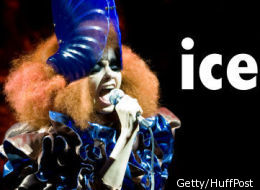 Avant-garde musician Bjork gained world-wide recognition in the 90s with the release of her full-length album Debut. As a result, her home country of Iceland was recognized for something other than elves. Over the next 14 years, Bjork released five more albums. And in October 2011, she dropped her first album in four years, Biophilia. In conjunction with the release, she is touring with more than just her music. Until March 2, Bjork will be coordinating with the New York Hall of Science to put on concerts and host educational and musical series and workshops.
Stirred by Bjork's presence in our city, HuffPost Culture is exploring the cultural offerings of Iceland for the second installment of our Around the World Culture series. From the beautifully offbeat like Bjork to jovial little horses, it isn't hard to find things to like about the volcano-dense nation.
To kick things off, a little taste of Bjork's sensibilities on "Big Time Sensuality."

Though Bjork is know for being Bjork all on her own, she spent the late 80s with Icelandic psychedelic punk group The Sugarcubes. Here's proof.

Icelandic composer and producer Johann Johannsson is quite possibly the most reputable export on this list next to Bjork. He's released eight albums and had a hand in more than 30 productions of films and plays as a composer. His orchestral style strung with electronic elements has attracted the attention of a number of artists, including filmmaker Bill Morrison. Morrison chose Johannsson to score haunting music for his silent film, "The Miners' Hymns," that pays tribute to the lost trade. Watch an interview with Johannsson and listen to him play on KCRW above.

Hallgrimur Helgason is a jack of all trades, dabbling in painting, writing, poetry and as you can see here, spoken word. Though well known for his B-class novel-turned-film "101 Reykjavík" that won the Discovery Film Award at the Toronto International Film Festival in 2000, it's evident the artist has a trained hand in other creative realms. In this video Helgason performs his poem, "Suit and Tie." More than just a reading, he dances and interacts with the audience while spitting prose about authority, and of course, the cloth they adorn themselves with -- suits and ties.

Apparently a lot of people from Iceland believe in elves. Though there's no official proof (yet), many will attest to their existence. In a recent appearance on "The Colbert Report," Bjork acknowledged the belief in the tiny creatures. She said they live in the rocks, so their relationship with the dwellers is really about a respect for nature. This special from ABC Australia highlights the curious folklore.

Vonlenska, better known as "Hopelandic" in English, is a style of unintelligible singing utilized by experimental Icelandic group, Sigur Ros. Though their lyrics may lack proper syntax (not that many people speak the language anyways), their orchestral post-rock sound is a lovely mix of ethereal, aquatic and ambient. Off the scene for nearly three years, the group released their first live album Inni in November. Additionally, lead singer Jonsi stepped into the mainstream to score the soundtrack for the film "We Bought A Zoo" released in December 2011.

Mugison is a well-known (possible the most well-known) singer-songwriter in Iceland. His self-released album Halglél, topped the charts in the country last year, taking the Best-Selling Album spot. Even if you don't know what he's saying, the bearded beauty knows how to serenade on the guitar.

"Lazy Town" is a now-defunct children's television show that was produced in Iceland and aired on Nick Jr. The creative mind behind the show is Magnus Orn Eyjolfsson Scheving, former gymnastics champion and Sportacus in the show. "Lazy Town" was only on air from 2004 to 2007, but it was successful, continuing to broadcast in over 100 countries. It's hard to watch more than 15 seconds of this clip, but catching Sportacus 10's (the man in blue) high kicks makes it all worth it.

Watch an Icelandic Horse run -- what looks like a marching-band stomp is actually a characteristic of their unique gaits. In addition to walking, trotting and galloping, these pony-sized animals are trained in two other, funny-looking runs.

The Iceland Dance Company's production of "Transaquania" is horror film-esque, but don't let the rubber-clad creatures writhing and growling on stage distract from the insane amount of athleticism and artistic fervor coming from the group. They frequently tour across Europe and are in the middle of their 2011/2012 season.

Classical opera singer Gardar Thor Cortes has released a number of albums and starred in multiple operas, most notably a leading part in "The Phantom of the Opera" in London's West End. This epic video for the 37-year-old tenor's song "Luna" is just dramatic enough to match his vocal skills.