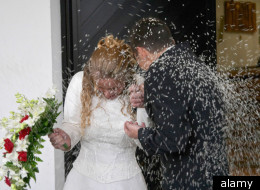 Since 1996, National Marriage Week, and its stateside counterpart, National Marriage Week USA, has aimed to spread awareness about the value of marriage by rallying together dozens of organizations to provide marriage classes and resources for couples internationally.
But National Marriage Week (this year's runs from February 7 to 14) is not without its critics, who say that the initiative is wrong-headed, and promotes only heterosexual marriage.
Here at HuffPost Weddings, we're interested in kick-starting discussions about marriage, so for us, National Marriage Week serves as a perfect excuse to do just that. To get the conversation going, we've put together a list of the nation's quirkiest, most surprising facts about tying the knot. Click through the slideshow below and let us know in the comments: will you be "celebrating" National Marriage Week?
A) Colorado B) Alabama C) Kansas D) North Dakota

North Dakota does not recognize common-law marriages, which are sometimes referred to as "informal marriages." Marriages in North Dakota must involve a civil contract and marriage license.

A) California B) Louisana C) Delaware D) Mississippi

Twenty-five states prohibit marriages between first cousins, but California isn't one of them. Marriage between first cousins is legal in California.

A) Oregon state flags B) Free champagne to celebrate the occasion C) A signed letter from the Governor of Oregon D) Pamphlets that discuss fetal alcohol syndrome

Strangely enough, county clerks in Oregon give newly-married couples educational pamphlets that discuss fetal alcohol syndrome. A bizarre wedding gift?

A) 12 months B) 3 months C) 6 months D) 9 months

Oklahoma laws stipulate that a divorcee must wait at least 6 months after the final divorce decree before marrying again, unless he or she is remarrying the same person.

A) Research on marriage counseling B) Transportation fees C) Civil Unions D) Local family protection shelters

West Virginia reserves a portion of each marriage license fee to provide funding for local family protection shelters.

A) Is over the age of 65 B) Met by chance C) Undergoes genetic counseling D) Already has children

In the state of Maine, first cousins can marry as long as the couple undergoes genetic counseling.

A) $100 B) $1000 C) $500 D) $10,000

Officiants must closely follow Alabama marriage laws. The state levies a fine of $1,000 against officiants who marry a couple without a valid marriage license.

A) Nevada B) New Hampshire C) New Jersey D) Maine

Not too surprisingly, Nevada has the highest marriage rate in the US, with 40.9 marriages per 1000 people. Las Vegas alone issues approximately 120,000 marriage licenses a year.

A) 24.2 B) 28.3 C) 25.8 D) 26.5

According to a new Pew Research Center study, based on U.S. Census Bureau data, the median age of first marriage for women is 26.5 years old.

A) 9.7 B) 26.8 C) 28.7 D) 25.2

And when it comes to the opposite gender, the median age of first marriage for men is 28.7 years old.