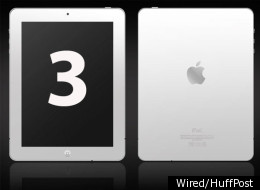 Every week the numerous blogs covering the machinations of the Apple empire float tons of unconfirmed rumors, futuristic speculation and questionably-sourced reports on what the company might be unveiling in the near or distant future. Let's take a look back at what the Mac blogs were excited about during the week of February 5 - 11. Check out our last edition of Apple rumors here, and for all the latest follow me on Twitter.
The Week In Apple Rumors: iPad 3, iPad Mini, MacBook AirPro
After months and months of silly "iPad 3" speculation and guesswork, several respected news sources are reporting that the iPad 3 will be unveiled the first week of March 2012. First to report the news was John Paczkowski of AllThingsD, who you might remember was the first journalist to correctly report (from anonymous sources) that the newest iPhone would be unveiled in October 2011 AND, as though that wasn't enough, he was also first to report that October 4th was the date that Tim Cook would unveil the iPhone 4S. He has a good track record, in other words, and if his sources say that the iPad 3 will be unveiled in early March, then the iPad 3 is probably going to be unveiled in early March. After the Paczkowski prediction came some confirmation from a bunch of well-sourced publications, including The New York Times, The Loop, and The Next Web, with The Next Web claiming that Apple was currently in "crunch mode" to get the thing ready by the first week in March. (Worth noting: The Times isn't quite sure that the next iPad will be called the iPad 3. Perhaps -- and this is just conjecture -- it will be called the "Apple TabletTron 6000.") The next iPad's official presentation date is just about nailed down. So what is the iPad 3 (or TabletTron 6000) going to look like? Let's take a walk down speculation lane. Image credit: Wired/The Huffington Post

iPad 3 4G: Not the catchiest name in the world. But the appearance of 4G micro SIM cards -- the very same micro SIM cards that would (GASP) fit in a new 4G LTE iPad -- at AT&T stores has the Internet abuzz that a next-generation iPad could become the first Apple device to be 4G LTE-capable. Despite months of speculation that the iPhone 4S would connect to faster 4G networks -- as well as my father's insistence on referring to it as the "iPhone 4GS" -- the device debuted without 4G, something that has been mocked by Samsung's recent Galaxy smartphone commercials. PhoneArena has pictures of these Micro SIM cards, which the site says are likely meant for the Nokia Lumia 900, a 4G Windows Phone coming this spring. But maybe -- JUST maybe -- they could be used in a 4G LTE iPad 3 or 4G iPhone 5. Apple CEO Tim Cook memorably shot down 4G rumors in February 2011, saying that "LTE would force design compromises we're not willing to make"; that, however, was one year ago, and perhaps LTE now fits in Apple's plans. Or, you know, this could be more mindless, attention-baiting speculation, and the 4G SIM cards could be for the Lumia 900 only, which we know for sure is 4G capable. But what fun is that? NO FUN AT ALL, I say. Let us continue to fuel the fire, with more chatter about the iPad 3 and how "truly amazing" its display screen will purportedly be.

The killer feature of the so-called iPad 3 will supposedly be its screen. Apple reportedly wants to quadruple the pixels of the iPad 3 over the iPad 2, from 1,024x768 to a true "retina display" resolution of 2,048x1,536. Popping up for a while have been rumors about trouble on the supply chain creating mass quantities of these retina displays, but the latest crop of rumors says that the iPad 3 will indeed get its Retina display screen. Apple-centric blog Cult of Mac has published photos of a bunch of leaked internal parts, including the one above, indicating that the next iPad will look much like the iPad 2. The Japanese Apple-centric blog Macotakara, meanwhile, found a photo of a Retina display-quality panel. It's not guaranteed to be for the iPad, but it does have the exact same dimensions and size of a screen panel that would fit in the iPad. Perhaps it's for the Samsung Galaxy Tab -- AM I RIGHT, APPLE LEGAL TEAM? (Sigh.) In any case, the New York Times seems to think that a Retina display, or something close to it, is coming. The Times' Nick Wingfield talked with an anonymous Apple employee, who provided him with these money details: "[T]he version of the new iPad that is being tested inside the company is "essentially the same size and shape as the iPad 2," with an improved and "truly amazing" screen. The tablet will include a faster processor..." More rumors about Apple's new tablet should be flying fast and furious in the coming weeks. Heck, there was even the return of that iPad Mini rumor this week -- remember that one? The one that says Apple is preparing a 7-inch tablet to compete with Amazon's diminutive Kindle Fire? It's back, and one analyst says it's definitely coming later this year. Not coming so soon? The Apple television set, which saw two unique rumors hit the Internet-sphere this past week. Let's take a look.

The Globe and Mail reports just what the headline of this slide says: That a certain telecommunications company in Canada is already testing the Apple television, a model that reportedly has Siri, an on-screen keyboard for Internet access and remote control via speech or hand gestures. (The Xbox 360 is also name-checked in the article. Here we should note that, since a December 2011 update, Xbox 360 owners can already manipulate their televisions using hand gestures and voice controls. So there). Anywho, Apple television: Siri, voice controls and hand gestures, Internet connectivity. It is perhaps being tested by telecommunications companies and might be available to subscribers of a single cable company. (Recall: Only AT&T carried the original iPhone when the device launched in 2007.) Writes The Globe and Mail: "They're not closed to doing it with one [company] or doing it with two," said one source who is familiar with the talks. "They're looking for a partner. They're looking for someone with wireless and broadband capabilities." Another report, this one from a Wall Street analyst, says that Apple might be in talks with Verizon and AT&T and that its television could be branded the iTV. Take this report with a grain of salt, however, as analysts' notes on Apple's upcoming products can be wildly speculative and, at times, wholly inaccurate. True story. Speaking of true stories, what's the deal with the MacBook Pro? Could it be merged with the MacBook Air this year? Read on...

The Labradoodle. The Puggle. The Chihuachshund. The MacBook AirPro? Okay, that's not so catchy (nor adorable), but a new rumor says that the MacBook Pro might be looking a lot more like the MacBook Air in the coming months. AppleInsider, citing "people familiar with Apple's roadmap," writes that radical changes are coming to the Pro line of laptops. From Apple Insider: [These changes] will include new, ultra-thin unibody enclosures that jettison yesteryear technologies like optical disk drives and traditional hard drives in favor of models with lightweight chassis that employ flash-memory based solid-state drives, instant-on capabilities, extended battery life, and rely on digital distribution for software and media. "They're all going to look like MacBook Airs," one person familiar with the new MacBook Pro designs told AppleInsider. Meanwhile, existing MacBook Pro designs are expected to be phased out over the course of the year. To put this in context, the grand unification of MacBook Air and MacBook Pro has been rumored for at least a year now, with MacRumors doing some nice work on the subject back in 2011. And as PC makers put all their eggs in the ultra-thin, ultra-light, ultra-Air-ish Ultrabook basket, expect everyday laptops to get more lightweight and Air-like as time rolls on. With that, we say goodbye to another week in Apple rumors. Please join us again next week, when I'll be writing This Week In Apple Rumors with the help of my Mini Bernedoodle.