Inspiration: The street-cool Alexander Wang Girl. Non-fussy hair and makeup.
Makeup: True to form, Diane Kendal for Mac Cosmetics created the same girl we see season after season. A minimal to bare look. But, at Wang, that still takes some makeup. (If the results weren't so cool -- in that effortlessly sexy way -- this would start to feel like a broken record.): "The feel is a typical Alexander girl," said Kendal. "Very boyish. Androgynous." The focus this round was all about a sculpted face. Kendal employed two different tones of MAC sculpting cream, then softly blended. "With the dark tone, we've gone into the contour of the eye underneath, up into the brow bone, down the center of the nose, and under the cheek bone. With the lighter color, we've put it on top of the cheekbones, on top of the eye brow." A swipe of black liner very close to the lash line help defined the eye. Brows were then filled in with powder to make them appear bolder and more square. "It's about enhancing and sculpting the girls' faces," said Kendal.
Hair: "I don't know what to call it other than Alexander Wang hair," said Redken lead hair stylist Guido Palau. "It's very particular to him. It's funny, a lot of the young designers are very into girls and the way they look today. And my job is to tweak that." Using a comb, he parted the models' hair down the middle. "The part is very strong, meaning with a comb. It makes a big difference, compared to using your with finger." He worked in Redken Satin Wear, then blew dry the front, leaving the back to air-dry with a bit of natural wave. Palau applied Outshine, "a silicone-y product," to keep it neat. "It's very light. The clothes are so dramatic this season, to do too much to the hair would be overkill. The way he wants to see these clothes worn is in a supercool way. And supercool means easy, effortless."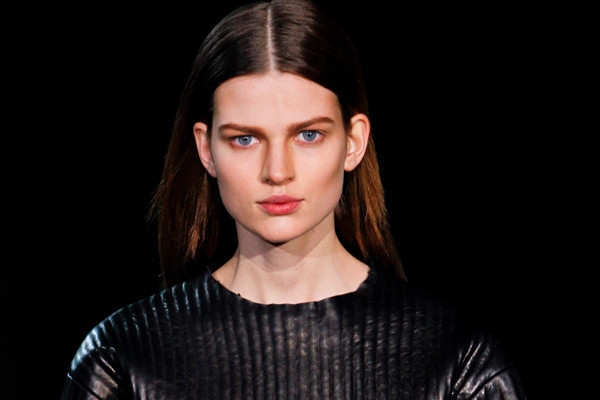 Nails: Wang teamed up with Sally Hansen again to create a trio of muted, nail polish tones. A dull stone, a very pale green and a flat beige. The last color called "Bandage" was chosen for all the models. Manicurist Jin Soon Choi who worked with the designer on the shade range explains that, "this one goes with all the models' skin tone. A perfect beige. A classic beige has a little more peach, this has more tan. Also, the name is quite clever. He has some sense of humor."
Oh, and here is a gratuitous shot of Gisele getting her hair done by the aforementioned Palau. You're welcome.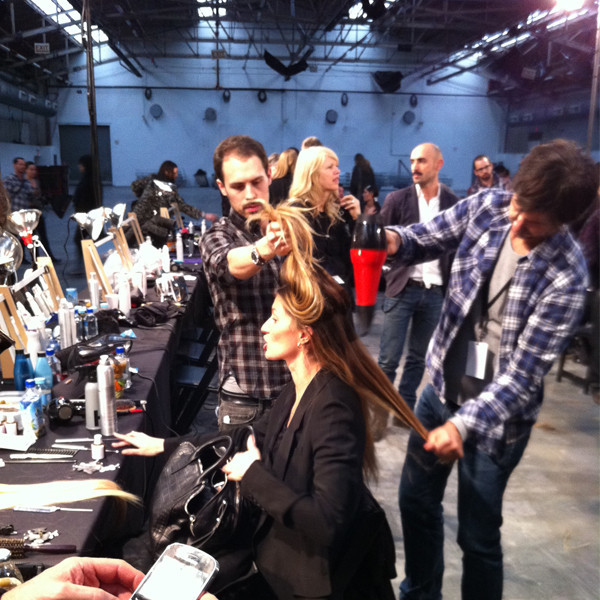 SUBSCRIBE TO & FOLLOW LIFESTYLE
We're basically your best friend… with better taste. Learn more