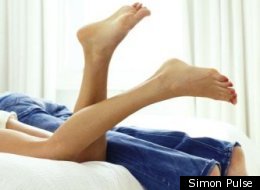 By Margaret Bristol for Bookish:
Way before Katniss fought for her life in "The Hunger Games" and Edward met Bella in "Twilight," before "Sweet Valley High" and "The Baby-sitters Club," there was Judy Blume. With over 20 titles under her belt, Blume has been a driving force in young adult literature since the 1970s, and her books still fly off the shelves. So why is reading Blume's books a rite of passage for so many adolescents? Puberty is an awkward time for all of us, and Blume's relatable fiction covers myriad common tween and teen experiences including, sex, menstruation, divorce and bullying. In honor of the grand dame's 74th birthday this Sunday, here are five of her groundbreaking books that have made the American Library Association's list of 100 Most Frequently Challenged Books.
Sure, this book is mostly famous for dealing with plenty of pubescent female firsts, like buying a bra and getting your period (a side note for the Blume faithful--the text has been updated since its 1970 publication with newer feminine hygiene technology, so no more belts.) But a bigger conflict comes from main character Margaret's religious background: Her mother is Christian and her father is Jewish. Beyond confused, Margaret asks questions to God to try and gain understanding of her changing body... and the greater world. Blume teaches readers that it's okay to question our beliefs and to let our identities evolve. Issues: Religious differences, female puberty Why it was challenged: Sexual references and alleged anti-Christian sentiment Most shocking moment: We all remember Margaret getting her first period, but it is the discovery that her best friend Nancy was lying about getting hers that is the true surprise.

The title character of this 1973 book seems to have it all. She's got great friends and is so pretty that her mom is pushes her to become a model. But her changing body--as with so many teens--throws her for a major loop. When she is diagnosed with scoliosis, Deenie is instructed to wear an embarrassing back brace that covers her whole torso, proving even the most beautiful girl in the bunch can struggle with body issues. Issues: Masturbation, body issues Why it was challenged: Discussion of teen sexuality Most shocking moment: Deenie discovers her body, and touches herself.

While bullying is still a hot topic today, Blume first focused on it back in 1974, long before social media got involved. "Blubber" is told from the perspective of Jill, a Pennsylvania fifth-grader who participates in the teasing of an overweight classmate. The obvious "what goes around comes around" lesson is included (including a racial slur launched at Jill's friend Tracy)--and when Jill gives up bullying and takes a stand against it, she proves that you can cure a mean girl. Issues: Bullying, racism Why it was challenged: Mature language and there is no punishment for the biggest bully in the class. Most shocking moment: Linda aka "Blubber" is physically bullied when her classmates try to tear her clothes off.

When high-schooler Katherine meets Michael, their attraction is instant, and their relationship quickly moves toward the physical. Katherine loses her virginity to Michael, thinking their love will last forever. But when the two spend the summer apart, she meets Theo, a tennis instructor, and ends up breaking things off with Michael, proving that while first love is incredibly special, it doesn't always last. This 1975 book gave generations of teen girls their first look at going all the way. Issues: Teen sex, birth control Why it was challenged: Open discussion of sexuality and birth control Most shocking moment: Michael's confession that he caught a sexually transmitted disease from his first sexual partner.

When Davey Wexler's father is killed in a shooting, her mother decides to move the family to New Mexico to start over. Davey befriends a boy named Wolf, and through their friendship she begins to deal with her grief and move forward. A film adaptation of this 1981 title is set for release this year, directed by Blume's son, Lawrence. Issues: Death, grief and depression Why it was challenged: Depictions of violence, alcoholism and discussion of suicide Most shocking moment: What's most shocking is what Blume chose to leave out of the book. According to her book "Places I Never Meant to Be," she intentionally removed a section in which Davey masturbates while thinking of Wolf, in hopes that the edit would help the book reach younger readers.
For more news from Bookish, click here!