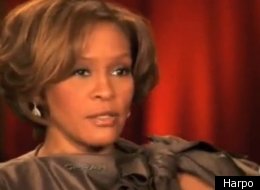 Whitney Houston's career highs and lows were often reflected in her interviews with the press. Houston, who died on Saturday at the age of 48, provided the media world with a range of interview appearances. The singer who candidly spoke of how her voice hadn't reached its full potential in a 1992 interview with NBC News, was the same person who aggressively told Diane Sawyer ten years later that she made "too much money to ever smoke crack."
She sat down with some of the industry's best, from detailing the extent of her drug use with Oprah, to letting Barbara Walters into her New Jersey home. On Sunday, the broadcast and cable networks are planning tributes to the late singer. CBS will honor Houston at the Grammy Awards with a tribute featuring Jennifer Hudson. CNN will air a special titled "Whitney Houston: Life, Death, Music," at 7:00 p.m.
View some of Houston's most notable television interview moments in the slideshow below.
Whitney Houston TV Interviews
Houston sat down with Access Hollywood in November 2011 to talk about her upcoming film "Sparkle." The film is set to be released in August.

Oprah interviewed Houston in 2009. The pop icon detailed the extent of her drug use while she was with her ex-husband Bobby Brown.

Houston was interviewed by ABC's Diane Sawyer in 2002.

Houston was interviewed by CNN in 2009 to talk about the release of what was widely considered her comeback album, "I Look To You."

Wendy Williams interviewed Houston in 2003 on WBLS-FM.

Rosie O'Donnell interviewed Houston in 1996 before the release of "A Preacher's Wife."

Barbara Walters interviewed Houston in 1993.

Houston appeared on UK talk show "Des O'Connor Tonight" in 1992 before the release of "The Bodyguard."

Houston was interviewed before the 1992 Grammy Awards by NBC News.

Houston was interviewed by Rolling Stone magazine in 1986.