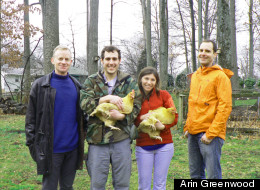 VIENNA, Va. -- Why keep backyard chickens? In one word: brunch.
Ed Fendley is co-founder of the Arlington Egg Project, a group trying to bring backyard chickens to Arlington County for a variety of reasons, including tasty, fresh eggs for home consumption.
The group -- which is holding an event, "I [Heart] Hens," at the Arlington Drafthouse on Thursday -- is starting out with some fairly modest goals.
During a visit to a Vienna home that keeps chickens, Fendley told The Huffington Post that to start, he's hoping Arlington County will begin a "community dialogue" on the issue of backyard chicken-keeping, eventually moving toward loosening up zoning restrictions so that most residents will be able to keep some hens. (Fendley is fairly convinced that any roosters in the dense, urban county would be a bad idea. Roosters are loud.)
The group has support in some high places. In January, J. Walter Tejada, vice chairman of the Arlington County Board, announced an urban agriculture initiative for Arlington. Tejada's initiative, which has the support of board member Jay Fisette, includes chickens. (Tejada told HuffPost that chickens are a small part of the initiative; the bigger parts concern food for low-income Arlingtonians.)
With questions about backyard chickens' suitability as pets and just how delicious fresh eggs actually are, HuffPost recently joined Fendley and fellow chicken aficionado Tom Carter in Vienna where their friends, hen-owners Chad and Heather Blevins, showed their brood and cooked some eggs, as seen in the slideshow below.
Chad Blevins: It's a mix between a Buff Orpington and Red Star. It's 75 percent Red Star, which is a good brown egg producer. And 25 percent Buff Orpington, a breed from England that's good in cold weather. A hardy bird. Heather Blevins: We found them on Craigslist.

Heather Blevins: They're so fun. I call them my little hennies. They're really cool pets.

Ed Fendley: Our objective is that residents who have typical households in Arlington would be able to realize the benefits of backyard hens and still make sure they are good neighbors. Tom Carter: In Raleigh, North Carolina, which is my home town, where they re-legalized backyard hens recently, most of the people who have put coops in their yards live in affluent neighborhoods. It's not the cheapest way to get eggs. It's the sad truth that healthier food generally costs more. People are beginning to understand the difference between sustainably grown and locally grown food, and those who can afford it are willing to do it. Ed Fendley: There's all sorts of different models. That's what we're hopeful we'll do in Arlington, is take a look at what various communities are doing and find out what the options are. The Arlington Egg Project, our goal is to foster that communication. To eventually have the zoning ordinance changed. But we are open as to how the community and the county board chooses to do that. We would envision limits on the number of hens. We would envision a ban on roosters. We would envision means to ensure secure, proper and humane housing for hens. There's lots of ways to do those things. We just want the conversation to take place that helps us figure out as a community what would be best.

Ed Fendley: One of [the Arlington Egg Project's] founding members was Catie Drew, the granddaughter of Charles Drew, who was an eminent Arlingtonian. A scientist and prominent African American at earlier parts of the 20th century. At his home in Arlington he used to keep chickens -- Catie has a photograph of that residence, where she now lives, from the 30s, showing a coop in the corner of the yard. So, in Arlington, this was very much a part of the experience of residents in the earlier part of the 20th century. In the 1970s the county board formally codified what is essentially an anti-hen ordinance.

Chad Blevins: We had six roosters. We had four big ones that were making all this godawful noise. Our neighbors were like 'We love the cock-a-doodle-doo.' I was like 'I don't.' So I was like, 'Let's have all our friends over, we'll have this big party.' We slaughtered four of them, put them on the smoker. And I was like, 'Oh, we'll take care of that cock-a-doodle-doo problem.' The next morning I'm laying there in bed. The two little guys were like, 'Thank god the bullies are gone.' Heather Blevins: It was, to me, very refreshing to go through that process. We'd raised them from babies. Everything they ate was all natural. It was an amazing experience.

Chad Blevins: We're talking about it. Ed Fendley: Are they not as happy when they're two as when they're four? Chad Blevins: I don't know about that. Heather Blevins: I'm interested to see when we do get new hens how we have to introduce them. Chad Blevins: I've read, and I don't know if any of this is factual or not, that if you take the new hens and stick them in the coop when the other hens are sleeping, they won't know the difference.

Chad Blevins: Between the two chickens I'd say we're getting eight a week now. In the summer, you're going to get 10 to 12. Heather Blevins: Chad cooks a big breakfast every weekend.

Chad Blevins: We give them a lot of old bread. Scraps of dinner. We have them on high protein [pellets]. You can get all-natural organic chicken feed. Heather Blevins: Springtime we have our garden, and we just let the hens in. They eat all the weeds. Chad Blevins: For some reason they don't eat the vegetables. It's unbelievable. It's the squirrels that are a big problem. Heather Blevins: Our chickens also like our compost pile. Chad Blevins: They eat the worms and the bugs. I give them some cake if we have leftover cake no one's going to eat.

Chad Blevins: The whole idea behind this coop is you give them the nesting boxes on the side. Easy access to get the eggs. The big concern in the winter is water freezing. I rigged that up. [Pointing at a plastic bowl inside the chicken coop.] It's a heated dog bowl. It's got a thermostat. It works really well. The majority of the time is spent out in the run. In the evening sometimes we'll open up the run and let them in the yard. Heather Blevins: A fox got three of our hens. Chad Blevins: With the fox, we had this problem, they would dig under the run here. So we took this chicken wire and laid it flat, and laid the run on top. The fox can't dig down under the run. That's there for protection.

Chad Blevins: The flavor and the consistency. It's like a thick meaty yolk. It's like a slice of meat almost. I would recommend scrambling some, so you can see how hard it is to break those yolks. Then fry some up.

Ed Fendley: I kept chickens many years ago when I lived in a place far away. So I had some experience. More recently I became interested, like a lot of people, reading Michael Pollan's books, and thinking about where food comes from. I'm also a parent. My wife and I have four children. We think about where their food comes from. We think about how they understand how the natural world works. We were aware that many other communities allowed backyard hens, so launched the Arlington Egg Project. It's been a year since we launched and our goal is to promote a community conversation about the benefits of backyard hens. Our ultimate objective is for the county board to revise the zoning ordinance so that Arlington residents can keep small numbers of backyard hens, while prohibiting roosters and ensuring secure, proper and humane housing for hens.

Ed Fendley: We are the Arlington Egg Project. We will allow others to take up a conversation about other urban agriculture causes. Our group is devoted to legalizing backyard hens so that residents can realize the deliciousness of a backyard egg.
RELATED VIDEO: Trailer for the documentary "Mad City Chickens."