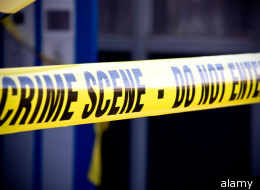 Within a 12-hour timespan this weekend in New York, as Gothamist notes, 2 people lost their lives to violence and 5 others died in car accidents.
(Last weekend, 5 people were murdered in a 25-hour timespan.)
The first victim was 21-year-old ex-con Patrick Mondesir. Around 9:17PM Saturday, Mondesir, who'd served time for hindering prosecution and attempted robbery convictions, was shot multiple times on the corner of East 54th Street and Church Avenue in East Flatbush, He died at Kings County Hospital, The New York Post reports, where another 21 year-old, shot in the arm and torso during the incident, is being treated.
About 30 minutes later, 42-year-old Dawn Affoumani was killed in a hit-and-run in the Bronx. She was struck by a tan mazda while crossing the intersection at White Plains Road and Story Avenue.
Back to Brooklyn, around 11:30PM, 17-year-old Edgar Soto was stabbed and killed after an impromptu football game in a Key Foods parking lot in Williamsburg. "He wasn't 18 yet, his mother cried Sunday afternoon. "He was a kid!"
Then, at 3AM, a 26 year-old man drove a Nissan Maxima northbound into the southbound lanes of the FDR and slammed into a Dodge Caravan. Both he and the 52-year-old driver were killed in the accident.
Around 4AM, 41 year-old livery cab driver Darren Green was killed when he lost control of his Lincoln Towncar in Queens, crashing into a utility pole.
And lastly, just before 8AM, another hit-and run, this time in Harlem, killed 75 year-old Luis Rosado.
Although a tragic weekend in New York, it pales in comparison to the three day Labor Day weekend in the Bronx, when 67 people were shot and 13 were killed. During one 18-minute stretch that weekend, 5 men were shot in 3 separate incidents.