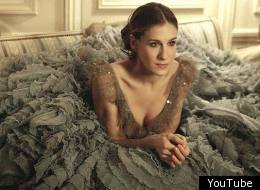 By Sara Benincasa for Bookish:
Fashion Week is here again, which means it's time to—read novels? Oh, you read that right. Think book geeks and fashionistas have nothing in common? Think again! Countless novels have been turned into films in which unforgettable literary characters are given new life—as well as, often, fabulous wardrobes. With a little help from Hal Rubenstein's "100 Unforgettable Dresses," we salute the stories that inspired the creation of some of the most unforgettable looks in fashion history.
The look: Audrey Hepburn's Givenchy evening gown in "Breakfast at Tiffany's" Though Capote's novella about a charming prostitute was sanitized for the big screen, Hepburn's Holly Golightly was still wonderfully sexy. The image of Holly in her long, slim black column continues to be used in posters, home décor and other tchotchkes and imitated widely in advertising and entertainment.

The look: Elizabeth Taylor's Edith Head debutante dress for "A Place in the Sun" The character of spoiled, gorgeous, rich heiress Angela Vickers deserved a dress as extravagant as her persona, and legendary costume designer Edith Head came through with a white confection that included a strapless sweetheart bodice and a voluminous full-length tulle skirt. Taylor starred as Vickers in the film adaptation of Theodore Dreiser's novel "An American Tragedy."

The look: Keira Knightley's Jacqueline Durran green evening gown for "Atonement" McEwan described at length his beautiful main character Cecilia's alluring green dress, so director Joe Wright took pains to ensure that Knightley would have a truly knockout gown for the film. But while Robbie, the son of one of Cecilia's family's servants, finds her so irresistible that he tears the dress off her in their lovemaking scene, the pair's mutual lust can't overcome the class differences--or the lies--that ruin both their lives.

The look: Elizabeth Taylor's slip for "BUtterfield 8" Taylor cut quite a figure as the foxy, promiscuous homewrecker Gloria in a role that seemed to foretell her luring co-star Eddie Fisher, who played her platonic best friend, away from wife Debbie Reynolds. The film, based on the book by John O'Hara, inspired lingerie sales nationwide to skyrocket. One look at Taylor in that slip and you can certainly understand why.

The look: Carol Burnett's Bob Mackie "Starlett" O'Hara curtain rod frock on "The Carol Burnett Show" We all know that Scarlett O'Hara was a resourceful and crafty woman. In the book and film versions of "Gone with the Wind," the heroine designs a beautiful gown out of the curtains in her home in hopes of winning Rhett Butler's heart (and money). In 1976, Carol Burnett enlisted Bob Mackie to take the legendary frock one step further, creating one of the most iconic sight gags in television history. Mackie, who owned his own replica of Leigh's gown, decided to add a curtain rod and tassels, turning this DIY into a DI-don't.

The look: Bette Davis's Edith Head cocktail dress in "All About Eve" Originally published in Cosmopolitan magazine in 1946, Mary Orr's short story about a girl who will stop at nothing for fame was adapted by Joseph Mankiewicz for the 1950 film version. Bette Davis insisted on having Edith Head design her costumes, much to the chagrin of Mankewicz, who did not get along with the designer. While the film was shot in black and white, Davis's cocktail gown was actually brown, with slash pockets bordered with fur in the skirt. Head won an Academy Award for the costumes in the film.

The look: Carrie Bradshaw's Versace "Soufflé" dress on "Sex and the City" While Bushnell's book about four best friends living the sweet single life in Manhattan may have not taken Carrie Bradshaw all the way to Paris with the Russian, HBO's TV adaptation sure did. Sarah Jessica Parker's Carrie got to live it up in The City of Lights, where she soon realized that the man she followed there was not the one for her. When Carrie Bradshaw breaks up with someone she does it in style. Hence, her $80,000 Verace haute couture gown complete with layers and layers of tulle.