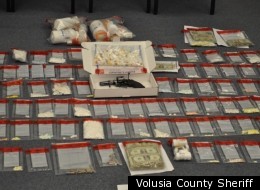 Talk about a drug store -- authorities in Florida busted a licensed pharmacist they allege was illegally dealing pills like morphine, valium and oxycodone. Police seized more than 5,000 prescription pills last week from a supposedly crooked chemist who authorities described as a "major drug kingpin."
The primary suspect, Michael Lomangino, 41, admitted to stealing a portion of the loot from his employer, a pharmacy in Daytona Beach, according to a Volusia County Sheriff press release.
The operation began to unfold during a routine traffic stop early Tuesday morning, when officers pulled over a Lamagino speeding his pickup truck through two stop signs outside DeLand, Fla.
"As the deputy was pulling over the truck, he immediately became suspicious when he noticed one of the passengers turn towards the back as if she was putting something under the seat," the statement explains.
Police called in the K-9 unit, leading them to 253 pills, traces of marijuana, drug paraphernalia and an order receipt from Steve's Pharmacy in Daytona Beach.
Police also arrested Lomangino's passenger and "female accomplice," 28-year-old Allina Kirkland-Michaud.
Further investigation led authorities to Lomangino's home, where they discovered 4,318 prescription medications and a loaded handgun. The pharmacist's powerful pills included "everything from oxycodone, hydrocodone and methadone to morphine, codeine, xanax and valium," according to authorities.
Overall, police seized more than 5,700 pills and nearly $5,000 in cash. Police charged the pair with drug trafficking and possession of drug paraphernalia.
Both suspects remain in police custody at the Volusia County Jail.