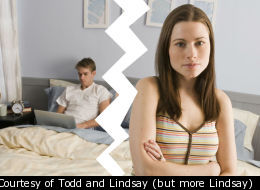 Early this morning, we, your HuffPost Valentine's Day editors Todd and Lindsay, broke up. But everything's fine! We'll still be bringing you all the news this Valentine's Day with the highest level of professionalism. That said, if you want to know exactly how Todd Lindsay no actually it was definitely you Todd Lindsay messed up, follow our story here, and judge for yourself.
ACTUALLY NO IT'S NOT FINE ANYMORE, AS YOU MIGHT HAVE GUESSED FROM THE VIDEO WE POSTED OF A LION KILLING ANOTHER LION. WE ARE STILL UPDATING THE LIVEBLOG BELOW, HOWEVER, BECAUSE DOCUMENTATION COMES IN HANDY IN A COURT OF LAW.
Kent is dead, Todd, what have we done. I don't want to say this is your fault but, it kind of is.
- Lindsay