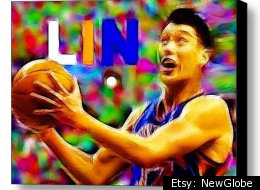 It is safe to say that the Linternet Linsanity over LiNBA Linsation Jeremy Lin is Lincreasing, and will Linger long after journalists run out of dreadful portmanteaus.
Yes, Twitter and Facebook have seen an almost insufferable (er, Lin-sufferable) number of hybrid Jeremy Lin words over the past week, as the upstart Knicks point guard has ridden a wave of social media popularity to become one of the most famous athletes in America. His Twitter account is now way up over 200,000 followers; his fans have made #Linsanity a trending topic on Twitter during the Knicks guard's games, and now they are clamoring for his merchandise. Lin's jersey is already the top seller in the NBA, where it has remained since Feb. 4.
It is fair to say that the Internet has enhanced Lin's notoriety, if not created and then driven it to its current peak. Like the more divisive Tim Tebow, Lin is a celebrity whose name recognition has certainly benefited from a more constantly connected, obsessively-Tweeting, oft-sensationalist Web.
As social media users have united in collective fascination with the Knicks' new star, we decided to do some -- here we go again -- Lintrepid Linvestigative reporting, finding some of the more creative ways that web Lintrepreneurs are capitalizing or celebrating Lin's emergence. Below are 11 ways the Internet is going nutso for Jeremy Lin. WARNING: A non-toxic amount of Linvented Jeremy Lin words abound in the following slideshow.
There are actually three Jeremy Lin apps in Android Market already: This one, from aptly named Sports Fanatics, is a fairly straightforward news feed of all things Jeremy Lin. You get updates from his Twitter and Facebook pages, Jeremy Lin videos and news, and a forum dedicated to Jeremy Lin chatter (Given the prevalence of the #Linsanity hashtag over the past week or so, a cynic might just call this dedicated forum "Twitter.") You can download your very own Jeremy Lin app for free here; there are no Jeremy Lin apps in the iTunes store. Let's be honest, though. If the Knicks star had to choose a mobile operating system, he'd probably go with Lindows Phone 7.

The rapid rise of Jeremy Lin in the NBA somewhat mirrors that of Pinterest, which recently became the fastest site to reach 10 million unique monthly viewers in the history of the Internet. Luckily, this being the Internet, some genius has combined the two to form j-linterest.com ("Linterest"), an online pinboard where one man organizes and shares the things he loves about Jeremy Lin. The site is full of Jeremy Lin images, memes and videos, all on a beautiful, visual, rectangular grid. Sure, the design borrows heavily from that of Pinterest, but you know what they say: Imitation is the Lin-cerest form of flattery.

This illustration of Jeremy Lin in the NewGlobe shop on Etsy is totally psychedelic. The technique -- a painterly yet brutally honest representation of the athlete-in-motion -- closely follows the style of the shop's previous renderings of sports stars Roy Halladay and Adrian Peterson. The limited edition portrait is yours (with frame!) for just $19 plus shipping. We couldn't find a name of the artist, but given the style and the courage, we just might be looking at the next Lincent Van Gogh, Leonardo Da Linci, or perhaps -- are you ready for this one, art history scholars? -- Lin-toretto.

CafePress, an online store for user-made everything, has almost 100 Jeremy Lin T-shirts (of questionable legality). Here are some of our favorites. (NOTE: If you hate Jeremy Lin puns, you might want to stop right here). All I Do Is Lin Lin Lin (No matter what) -- Order here.

Ballin' - Order here.

The Most Lin-teresting Man In The World -- Order here.

From the Jeremy Lin store on Shopify.com.

From the Jeremy Lin store on Shopify.com.

For those without enough money to purchase one of the previous Lin Ts ... The official Jeremy Lin jerseys are not yet available in the New York Knicks store, so this fan got a little creative. Photo snapped by Emma Jean at emmajean.tumblr.com. Nothing like a little Lin-genuity from a passionate sports fan.

American artist and designer Bernard Chang has this heroic depiction of a driving Jeremy Lin; Chang is best known for his work with comic books, and Lin sure looks like a crusading superhero in this lionizing depiction. By the way, is there any question that if Jeremy Lin really was a comic book superhero, he would be a Teenage Mutant Linja Turtle? (I don't think I even need to mention that, of the four Turtles, he would certainly be Michael-Lin-gelo).

Rapper Mega Ran took a beat by A$ap Rocky and spit some lines about Jeremy Lin over it: The result, a song/video montage rather descriptively titled "Jeremy Lin Rap," celebrates the Knicks star who went "from undrafted to the top of the league" with "a 4.2 grade-point average, not vertical." Hip hop stars of the present and past who we await to rap about Jeremy: Lin D.M.C., Public Linemy, Lin.W.A., LL Cool Jeremy, and, of course, Bone Thugs Lin Harmony.

This feed contains the video's "'Linsanity' Hits NYC" info API