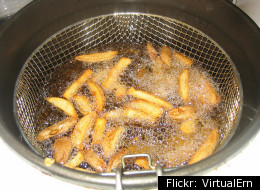 At 3:30am on Friday, February 10, a Sydney, Australia McDonald's manager allegedly threw hot oil on a customer, causing serious burns to the victim's face, chest, torso and arms.
The victim was somewhat intoxicated and supposedly swore at the manager and threatened to kill him. The manager allegedly responded, "If you come over the counter, I'll throw oil on you."
You can guess what comes next -- the victim jumped the counter and the manager did what he said he would. Police are reviewing footage investigating the incident.
McDonald's has been in the news a lot lately due to a spate of bizarre customer happenings including one woman getting stunned gunned and another offering sex for McNuggets.