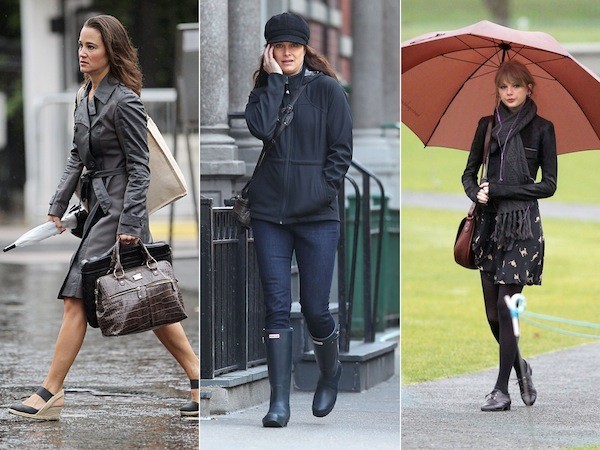 Fame Pictures (3)
I've been waiting for a rainy day to wear my Missoni for Target boots à la Paper magazine columnist Mickey Boardman, and this damp and dreary New York City weather couldn't be more fitting. While my jeans are stuffed clumsily in shoes, Pippa Middleton, Brooke Shields and Taylor Swift serve as chic inspiration for wet days.
Middleton's sleek trench coat kept her soak-free, Shields braved the elements in a pageboy hat and tall Hunter Wellies and Swift looked like a street style star in a leather jacket, oxfords and an oversized umbrella. However, not all the stars were able to stay dry and stylish. Case in point: Betty White got caught in the rain sporting a thin green poncho.
See more celebrities in rain gear in the slideshow below and vote for your favorite look.
And don't forget to protect yourself from wind and rain with the best waterproof makeup.
CELEBRITY RELATED LINKS YOU MAY LOVE:

Which Star Is Wearing Liz Taylor's Dress To The MET Gala? - Elle

Kim Kardashian Is Working On A Fresh Start - Allure

Check Out Sofia Vergara's Bombshell Style - InStyle

Celebrities Show Off Their Style From The Front Row - FabSugar

The Story Behind Adele's Platinum Locks - People Style Watch