DIY Carousel Ride Looks Fun, Dangerous (VIDEO)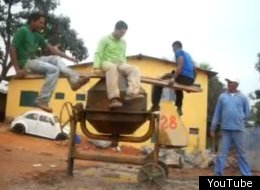 We get it. You're bored, you're taking a little break, but there's nothing to do. In that situation you have no choice but to make your own fun. But maybe it's more sensible to keep a deck of cards handy.
All we can say is, these guys are incredibly lucky that their heads are still attached to their torsos.