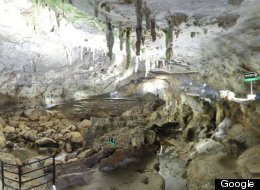 If you often find yourself too busy (or broke) to travel, fear not. Google Street View lets you virtually explore 360-degree views of many exotic (and run-of-the-mill) locations around the world, as if you were really there.
Thanks to Google's most recent forays into the world's hidden nooks and crannies, not only can you travel underground to an ancient Japanese silver mine, you can also check out a limestone cavern in Japan and enjoy the views around a few wineries in South Africa's Western Cape.
To poke around underground in Japan, visit Google Street View Japan's homepage where the Okubo-mabu mineshaft and the Akiyoshi-do limestone cavern are featured alongside other Japanese landmarks.
The Western Cape winery additions -- Boekenhoutskloof, Groot Constantia, Hartenberg Wine Estate, Môreson Winery, Rustenberg Wines and Warwick Winery, according to TechCentral -- can be viewed by searching each of their names on Google Maps, and dragging the yellow "Pegman" (located in the upper left-hand corner of the maps) onto one of the surrounding blue roads. Using the wheel in the upper left-hand corner to rotate your view or clicking on the right or left arrows to move down a road will allow you to more deeply explore any Street View map Google has available (for more information on how to use Street View, see its website).
Since the service first launched in five U.S. cities back in 2007, Street View's offerings have expanded to include ground-level images from all seven continents. With the help of cars, trikes, trolleys, and even snowmobiles outfitted with elaborate camera systems, the mapping service has compiled enough photos to allow users to peek inside buildings, visit the Antarctic's Half Moon Island, or check out Rome's Colosseum.
Once its team is finished snapping and processing their growing collection of panoramic photos, Street View will also allow you to travel through the Swiss Alps via its railways, look around Botswana, and maybe even explore Bulgaria.
To a get a first glimpse of some of Google's newest Street View additions, as well as some of the other cool locations already available in the service, check out the slideshow (below). In the comments, let us know which places you want Google to explore next! Then, check out our slideshows featuring the craziest sightings in Google Street View and in Google Earth.
Google's New Street Views
The Akiyoshi-do limestone cavern is located in Japan's Yamaguchi Prefecture and has amazing features, such as the Hyakumai-Zara ("100 plates") section, which contains layer upon layer of limestone, as reported by CNET.

The Okubo-mabu mineshaft -- located in Omori, Ota City -- is part of the Iwami Ginzan silver mines, which was once one of the largest in the world, according to CNET.

Established in 1776, Boekenhoutskloof Winery sits in Franschhoek valley and makes wines such as Syrah, Cabernet Sauvignon, and Grenache.

Groot Constantia Wine Estate is both a winery and a popular historical tourist attraction due to its authentic Cape Dutch architecture.

Since before the 17th century, the land on which the Hartenberg estate now sits has been used to make wine. Now, the daughters of its late owner, Ken Mackenzie, are carrying on the land's legacy.

A finally owned estate, Môreson Winery sits at the end of Happy Valley Road in West Cape, South Africa, and creates 13 different wines.

Rustenberg Wines' history dates back to before the 17th century, and, after switching hands a few times, it has been owned by Peter and Pamela Barlow for the last 60 years.

The expansive Warwick Estate is family-run and family-owned by the Ratcliffes.

Google Street Views has spread so far, it has reached Antarctica's Half Moon Island. If you look closely, the "Pegman" in the bottom right-hand corner is a penguin!

While Google has yet to add the Swiss Alps railway street views, it's working hard to shoot and process photos for your viewing pleasure. Check out this video to learn more about how they're capturing these amazing images.

One of the world's greatest wonders is Rome's colossal Colosseum. Even if you can't make it all the way out to Italy, you can view it easily through Google Street View.

Le Refuge du Passé in Paris, France, is one establishment that has taken advantage of Google's new Street View for businesses. Like the regular Street View, Google's Business Photos offer a 360-degree panoramic view of whatever place you're looking at -- but inside, rather than outside.