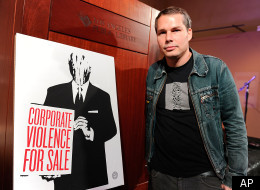 On this day (February 15) in 1970, Shepard Fairey was born. The now-infamous graphic designer, illustrator, and poster fanatic emerged on the scene through his Andre the Giant street art campaign in the late 80s, back when Fairey was a student at the Rhode Island School of Design.
In a recent interview with Peter Simek at FrontRow, Fairey is asked about his work now that he has evolved from a paste-up skateboard punk to the creator of the incredibly popular pro-Obama "HOPE" election posters.
Is he a sell out? In response to Simek's line of questioning, Fairey retorts, "I...think that the idea, if you have ever done anything rebellious, that you've somehow contradicted yourself to work with the power structure to improve it and infiltrate it and change the culture of it, that's elitist, isolationist, and stupid."
Happy Birthday, Mr. Fairey.
If you haven't seen his latest work at Dallas Contemporary, check out a time lapse video of him painting his "Citywide Street Project" mural here.
See a slideshow of his work below, and let us know what you think of the guerilla poster artist in the comments section.
"The Future is Unwritten"

"HOPE" Poster For Occupy Wall Street

Shepard Fairey & Retna. Photo courtesy of Charley Gallay/WireImage

Shepard Fairey. Photo courtesy of Charley Gallay/WireImage

West Hollywood Library Mural by Shepard Fairey. Photo courtesy of Charley Gallay/WireImage

photo by Rasmus Osterhammel

AP image