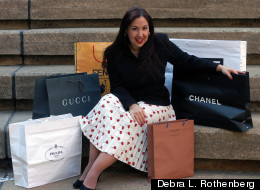 One of the reasons I started my website, Marlothomas.com, is that I wanted a place for women (including me!) to come together and dream. Women should know that they don't have to hang on to an old dream that has stopped nurturing them -- that there is always time to start a new dream. In that spirit, I created a series called "It Ain't Over," profiling women who have pursued -- and fulfilled -- their dreams and passions, no matter what their age or circumstances. This week's story is about how one woman's love of sample sales led her (and hundreds of others) to the designer outlets of Italy. -- MT
By Lori Weiss
Deep in the rolling hills of Tuscany, 26 women raise their glasses in glee -- toasting the brilliance of Prada, Gucci and Fendi, as their shopping bags filled with designer shoes and purses spill over on the surrounding tables.
"That's always the special moment for me on every trip," Deborah Mayer says. "After we've spent the morning at the Prada outlet and the group is gathered at a winery, passing plates of salad and pasta, I sit back and smile and realize how happy everyone is. And no matter how many times I've seen it, I can't believe I'm the one who made it happen."
And Deborah has made it happen 27 times, to be exact. That's how many Shop Around Tours she's brought to the designer outlet centers of Italy -- a far cry from the entry-level assignments she'd accepted at age 37, in an effort to break into the travel industry, despite two successful careers in television and music.
"When I first got into the entertainment business, if you told me I was on the guest list, I'd go to the opening of an envelope," she says, rolling her eyes. "But it got to the point where all the free CDs you could shlep home from work weren't enough anymore. People thought it was all so glamorous, but I was having so much more fun in my free time, when I was helping my friends plan vacations abroad. I loved to travel and I wanted them to have the same experiences."
So Deborah decided to follow her passion by taking a page out of the itinerary that had guided her career path. Just as she had in her earlier professions, she accepted a relatively junior job, hoping someone would notice her -- only this time she did it with a mortgage hanging over her head.
"I took a 50% pay cut and a job answering phones for one of the owners of a travel company. I cried the first day when I realized what I'd done. Here I'd gone to graduate school and worked my way up to a middle-management position at another job, and now I was going to answer someone's calls?"
But that fork in the road put Deborah in the perfect position to learn the business from the ground up. Soon she was traveling through Venice, Rome, Florence and Sorrento -- searching for the country's hidden gems. "It wasn't as fabulous as it sounds," she laughs. "I was trudging through five hotels a day and having drinks with tour operators."
That said, even Deborah can't deny that there was one particular part that was pretty fabulous. "My boss asked me to check out an outlet center she'd heard about. Who was I to argue? And when I bought shoes at Gucci for $30, I knew I was on to something!"
At the time, only Gucci and Prada had outlets in Italy and apparently the designers hadn't caught on to the fact that a true fashionista would fly across the world to get a fifty percent discount -- let alone $30 designer shoes. But it wasn't long before the first American-style outlet mall opened; other designers got on the bandwagon and Deborah's friends began reminding her of the idea she'd brought home with her from Italy.
So once again, Deborah began with a hope and a prayer -- investing $1,000 in a starter website and advertising on two sample sale email lists that she happened to subscribe to herself. "I've always considered myself a Dom Perignon girl on a Budweiser budget," she says with a smile. "I have nice things but I don't pay full price."
Two weeks later, while on a lunch break from her real job, she checked her email and was floored to find a flood of like-minded shoppers registering -- enough for her to book not only one tour, but two. "I was on this huge high," she recalls. "My biggest worry was whether I'd have to quit my job to make this happen."
She quickly made arrangements for a second group and then flew off to an industry conference. That was September 9th, 2001. Two days later, on September 11th, the world and the travel industry came to a standstill.
Deborah not only lost her full-time job, but began losing many of her new clients -- the ones who were now less eager to fly off on a dime. But with a little bit of grit and a lot of determination, she managed to combine the two tours and get on a plane to Italy -- putting on a brave face for her guests, who never had a clue about how worried she was.
"We were at Loro Piana and I saw this fantastic cashmere bathrobe that was selling for a few hundred dollars. There I was leading a shopping tour in Italy and I couldn't bring myself to buy it.
But the next morning, it was as if the shopping gods had stepped in. An international writer for Newsweek had stumbled upon Deborah's website -- there, at a newspaper stand in Florence, Deborah opened up a magazine and saw her very first press hit. "At that moment," she recalls, "I knew everything was going to be okay."
So that day at the Tuscan winery, as her first 26 guests raised their glasses, Deborah breathed a sigh of relief and vowed to bring every group she guided through the outlets of Italy to the very same vineyard -- Castello Di Verrazzano -- which she now refers to as her "happy place." After a morning of shopping, of course.
As for that cashmere bathrobe, Deborah found it one year later in the perfect shade of violet, and bought it guilt-free -- as an essential part of her fall wardrobe, since now she's able to work from home.
And I got it for 85% off!" she says with delight. "Other than this bathrobe, that pay cut I took in order to follow my passion is probably the best deal I've made in my life. It bought me my dream."
To learn more about Deborah's shopping tours, check out Shoparoundtours.com.
Cleaning out the bargain bins at a silk factory outlet in Como. By the time Deborah's shoppers left, the store had to restock.

The women of Shop Around Tours and the men of Verrazzano, gathering outside the hilltop cantina of Castello di Verrazzano, Greve in Chianti, Tuscany.

Lunching under the Fall leaves at Castello di Verrazzano in the Chianti region of Tuscany.

One of a kind skirts on display at a silk factory outlet in Lake Como, Italy.

Deborah's happy shoppers cashed in -- buying silk scarves for less than $50.

Tucked in the Tuscan hills are the Barberino Outlets.

At the Foxtown outlets in Mendrisio, Switzerland, Apple found this gorgeous Gucci bag.

Spanning the Arno River in Florence is the Ponte Vecchio bridge, lined with jewelry shops.

There are too many bags to carry when you're on a Shop Around Tour. Good thing they travel in a bus with a big trunk!

Deborah wearing her fantastic Loro Piana cashmere bathrobe.

Enjoying a sumptuous lunch at Castello di Verrazzano in the Chianti region of Tuscany.

Moms and daughters shopping together on one of Deborah's shopping tours!

Shop Around Tours travelers outside the Prada factory outlet in Montevarchi.

Learning how designer handbags are made gives fashion lovers an appreciation for why they cost so much.

Watching a master leather-cutter at work in a small factory that manufactures products for many top designers.

Friends and family gathering outside the Dolce & Gabbana outlet in Incisa. There's nothing better than traveling with like-minded people!

Learning about wine at the Castello Verrazzano.

The Mall outlets in Leccio, near Florence.

One of the best deals found on a Shop Around Tour: shoes at Marni for 20 euros. That's $26 in U.S. currency.

Lauren shows off her steal of a deal, a Prada bag she found for nearly $1,000 less than it cost in the U.S.
Add Marlo On Facebook:
Follow Marlo on Twitter:
Weekly Newsletter

Sign up to receive my email newsletter each week � It will keep you up-to-date on upcoming articles, Mondays with Marlo guests, videos, and more!

Sign up here